Catholic New Jersey High School Enhances Security and Operational Efficiency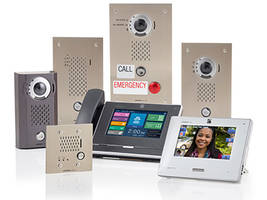 Aiphone replaced an outdated analog system with its IX Series, featuring IP video intercoms
Redmond, Wash. – March 4, 2021 – Aiphone, the leading international manufacturer of intercom and security communication products, has installed its IX Series intercom system at the Roselle Catholic High School in Roselle, New Jersey. Roselle, like many educational facilities across the country, found itself relying on outdated technology and the inability to communicate from classrooms to a main office or centralized security location – a safety risk in any educational institution.
The high school was awarded a grant through the state of New Jersey to implement security improvements. The school chose an Aiphone IX Series Peer-to-Peer IP Video Intercom System, which included two master stations, two video door stations, and 43 audio sub stations to connect each of its classrooms.
This new system allows the school's front office staff to respond to visitor access requests at the main entrance, while also making visual confirmation before admitting anyone inside the building. To handle access requests, the school is equipped with two touchscreen master stations, one located at the front office and the other in the principal's office.
An invaluable feature for the school is it allows teachers to communicate directly to the front office, they can also quickly initiate a lockdown to the entire school in case of an emergency. The Aiphone IX Series can send a pre-recorded notification building-wide, alerting students and staff of any threats and providing instructions on what to do next.
"With the previous system being unable to talk back to the main office, teachers were left in a bad spot if they ever had to reach an administrator for an emergency," said Principal Tom Berrios. "With these improvements, the teachers now feel more secure with what's going on in the building and they have an easier way to communicate."
"This feature is considered a 'hot button' capability, because it allows the school to create a pre-recorded message for emergencies," said Ed Maffey, president of Maffey's Security Group, the systems integrator tasked with the installation. "With one push of a button, a pre-recorded message will play continuously and can be used for a variety of scenarios, including fire drills, emergency evacuations, and lockdown situations."
Visit the Aiphone website for more information on the Roselle Catholic High School project and its IX Series Peer-to-Peer IP Video Intercom System.
About Aiphone
Aiphone's wide breadth of high-quality, reliable products offer solutions for security points in almost any application. Known for design simplicity, technical excellence, and backed by award-winning customer support, our highly configurable systems range from DIY audio intercoms, through sophisticated video entry systems, all the way to enterprise-level, IP-based communication networks with emergency call stations. For more information visit http://www.aiphone.com/home/
Contact:
Brad Kamcheff
Aiphone Corp.
800-692-0200 x 8111
[email protected]
Chelsie Woods / Rachel Peck
Eclipse Media Group on behalf of Aiphone
207-730-2396
[email protected]
[email protected]