Catalytic Purifiers suit all Bobcat construction equipment.
Press Release Summary: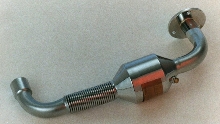 Direct-fit catalytic purifiers replace one section of original exhaust system, eliminating requirements of cutting and welding. They reduce diesel particulate and hydrocarbon emissions responsible for characteristic diesel smell and eye irritation. OSHA and MSHA compliant, purifiers reduce CO emissions by over 90%, and remove 20-50% of total particulate matter emissions.
---
Original Press Release:
Nett Direct-Fit Diesel Purifiers Available for the Full Line of Bobcat Equipment (Low Temperature Catalysts Available for Most Models)

Nett Technologies Inc. announces the availability of direct-fit catalytic purifiers for the full line of Bobcat Construction Equipment. This emission control device replaces a section of the original exhaust system, eliminating requirements of cutting and welding. Direct-fit purifiers for Bobcat construction equipment are designed to reduce cost and installation time significantly. Many popular models are in stock and are distributed worldwide. Purifiers for other models are pre-designed and can be shipped within 2-3 business days.

Nett Technologies' continued commitment to Research and Development has proven successful. Our line of low temperature catalysts, are OEMmie award winners for technological and innovative excellence. Emissions from diesel engines contain several harmful compounds including carbon monoxide, hydrocarbons, and diesel particulates. Maximum allowable levels of these compounds in the workplace are regulated by the Occupational Safety and Health Administration (OSHA) and Mining Safety and Health Administration (MSHA). These purifiers represent the most advanced catalyst technology designed for high reductions of diesel particulate and hydrocarbon emissions. An effective and significant reduction of diesel particulates is achieved when used in conjunction with low-sulfur diesel fuel. They provide an immediate noticeable reduction in hydrocarbons, which are responsible for the characteristic diesel smell and eye irritation, as well as being a contributor to smog formation in urban areas.

Nett catalytic purifiers are an effective means to reduce toxic emissions, improve air quality, and comply with OSHA and MSHA requirements. Emissions of carbon monoxide can be reduced by over 90%. Hydrocarbons, aldehydes, and their derivatives are also reduced resulting in an almost complete reduction of the characteristic odor of diesel exhaust. The purifiers reduce about 80-90% of the heavy hydrocarbon fraction of diesel particulates, called SOF, which contains many known human carcinogens. The reduction of SOF translates into a 20-50% reduction in the total particulate matter emissions. Conversions are maximized when low sulfur fuel is used. The low temperature catalyst is particularly effective in reducing hydrocarbon emissions during periods of low exhaust temperature such as at start-up and during extended idling. It also includes suppressants to limit the formation of sulfates. Conventional oxidation catalysts can generate sulfate particulates at higher exhaust temperatures and can significantly increase PM emissions from diesel engines.

The NETT purifiers are catalytic converters utilizing flow-through monolith catalyst supports. NETT purifiers are characterized by high mechanical durability proven in laboratory tests and in the field. Due to the low wall thickness, they create very low backpressure and provide very little risk of clogging with diesel particulates. NETT purifiers are virtually maintenance-free.

The wide range of products available from NETT includes catalytic converters for diesel, natural gas, LPG, and gasoline engines, diesel particulate filters, and fume diluters. NETT Technologies Inc. specializes in emission control products for engines, vehicles, and machinery used in the construction, material handling and mining industries.

For more information about direct fit diesel catalytic purifiers call NETT Technologies at 1-800-361-6388 (North America) or 905-672-5453, email: sales@nett.ca. Visit the Neft web site at www.nett.ca
More from Packaging Products & Equipment