Cat 7 Cable Connector features IP67 protection rating.
Press Release Summary: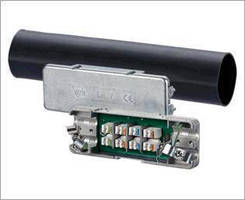 Designed to connect/extend data cables up to Cat 7A data speed, P/N 130863-01-E uses heat shrink tubing to achieve IP67 rating. Connector complies with Class E to ISO/IEC 11801 Ed.2.2:2011-06 in combination with Cat 6, Cat 6A, Cat 7, and Cat 7A cables and Cat 6 connectors. Featuring fully shielded metal housing, strain relief, and separate captive 360° shield connection, product is suited for oil/gas, utility, and shipbuilding industries as well as factory maintenance and repair applications.
---
Original Press Release:

Cat 7 Cable Connector



P/N 130863-01-E



The IP67 rated cable connector from METZ CONNECT connects/extends data cables up to Cat 7A data speed. The cable connector achieves its IP67 rating due to its heat shrink tubing. The connector complies with Class E to ISO/IEC 11801 Ed.2.2:2011-06 in combination with Cat 6, Cat 6A, Cat 7 and Cat 7A cables and Cat 6 connectors. Wires can be terminated quickly using our LSA-PLUS crimp tool (P/N 130818-E) and the dual sided cable feed can accommodate data lines of AWG 26/1 to 22/1.



These features, along with a fully shielded metal housing, strain relief, and separate captive 360° shield connection make this connector ideal for the oil and gas, utility, and shipbuilding industries as well as factory maintenance and repair applications.



Website link: http://www.metz-connect.com/us/products/130863-01-e.

Please contact us at info@metzconnectusa.com  or 888-722-5625.



For further information

METZ CONNECT USA Inc.

Marketing Communications Specialist

Donna Mears

200 Tornillo Way

Tinton Falls, NJ 07712

Ph 732-389-1300

Fax 732-389-9066

www.metz-connect.com

Donna@metz-connect.com



Customer Terminated Sample

Crimp Tool LSA-PLUS®

P/N 130818-E

Website link: http://www.metzconnect.com/us/products/130818-e



More from Textile Industry Products