CAT.6A Cables suit continuous flex and torsion applications.
Press Release Summary: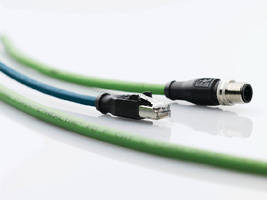 Combining 10 Gbps data transfer with continuous flex and torsion performance, ETHERLINE® CAT.6A Cables are suited for robotics, machine vision systems, wind turbines, and other industrial machines. Shielding system employs proprietary process that wraps aluminum compound foil around individual twisted pairs at angle for optimized performance. Compliant with Profinet standard and resistant to UV and flame, cables also have copper braid reinforced with foil-laminated fleece.
---
Original Press Release:

CAT.6A Cables For Continuous Flex and Torsion Applications



CAT.6A cables already provide fast data transmission rates in industrial Ethernet systems. Yet these cables could not withstand the continuous flex or torsion requirements associated with moving machine applications. Our new ETHERLINE® CAT.6A cables remove this limitation.



In an industry first, the new ETHERLINE cables combine CAT.6A's 10 Gbit/sec data transfer rates with continuous flex and torsion performance suitable for robotics, machine vision systems, wind turbines and other industrial machines with motion systems.  Previous continuous flex industrial Ethernet cables offered a maximum data transfer rate of 1 Gbit/sec.



To raise the bar on CAT6.A continuous flex performance, our engineers had to solve a tricky shielding challenge. CAT6.A cables operate at frequencies as high as 500 MHz, which predisposes them to electromagnetic noise and interference (EMI). A conventional shielding system capable of warding off EMI at these high frequencies would have made the cables too stiff for continuous flex or torsion applications.



So our engineers created an entirely new shielding system that strikes a balance between EMI protection, flexibility and the mechanical strength to withstand the high strains associated with continuous flex or torsion.



This new shielding employs a proprietary wrapping process that wraps aluminum compound foil around individual twisted pairs at an angle optimized for shielding performance.  In addition, the cable has a copper braid reinforced with a foil-laminated fleece. This high-quality screening, the first of its kind, ensures extremely reliable data transfer.



ETHERLINE CAT.6A comes in two different versions, one optimized for continuous flex and the other for torsion. The continuous flex version is suitable for use in cable tracks and has been tested for more than one million bending cycles. 



Available with either PVC or PUR jackets, both versions of the ETHERLINE CAT.6A offer:

• Compliance to the PROFINET standard.

• Resistance to UV and flame.

• Performance in damp or dry operating environments.



New RJ45 and M12 x-coded connectors designed specially for ETHERLINE CAT6.A cables are also available.



For more information on ETHERLINE CAT.6A FD and torsion cables, visit www.lappusa.com/ethernetCAT.



More from Computer Hardware & Peripherals