Cat 6 Cord Sets future-proof Ethernet installations.
Press Release Summary: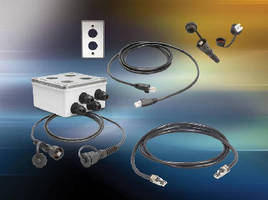 Made with Belden DataTuff Ethernet cables, Cat 6 Cord Sets provide industrial-grade connectivity for manufacturing in harsh environments. Units feature RJ45 plugs, are available in shielded and unshielded versions, and are suitable for IP20 or IP67 applications. Providing electrical stability, Bonded-Pair technology affixes individual conductors in each pair to each other along longitudinal axes, ensuring that no gaps between conductors can occur.
---
Original Press Release:

Belden Introduces DataTuff Cat 6 Cord Sets for Upgrading and Future-Proofing Ethernet Installations



St. Louis, Missouri - Belden Inc., (NYSE:BDC), a global leader in signal transmission solutions for mission-critical applications, announces a new line of industrial grade Cat 6 cord sets that are factory-tested and warranted to provide reliable data transmission for Gigabit industrial Ethernet implementations. Cat 6 standard cord sets support the higher data transmission rates demanded by today's industrial networks while ensuring backward compatibility with Belden's line of Cat 5e cord sets. Made with Belden DataTuff industrial Ethernet cables, Belden's Cat 6 cord sets provide robust, reliable, industrial-grade connectivity for manufacturing in harsh environments.

According to one industry study, the vast majority (72 percent) of failures in industrial networks are at the physical layer. Belden Cat 6 cord sets feature Belden's Bonded-Pair technology to provide the most robust electrical performance in industrial-grade cables that are designed to withstand hostile environments. Belden's factory manufactured, tested and warranted cord sets eliminate field-termination failures that compromise transmission quality.

"Belden's line of cord sets supports Belden's dedication to providing complete end-to-end solutions for industrial networking applications," said Frank Koditek, Belden Americas product line manager for industrial cables. "In today's manufacturing networks, there is rarely a need to field-terminate Ethernet cable. Our cord sets are tested and warranted to provide fast installation and reliable service."

Like Belden's Cat 5e cordsets, the Cat 6 cord sets are made with RJ45 plugs, available in shielded and unshielded versions and suitable for IP20 or IP67 applications. The IP20 cord sets are terminated with RJ45 connectors and are fully compatible with suitable Hirschmann and GarrettCom networking products as well as other industry networking devices.

Belden is also featuring Cat 6 cord sets with ruggedized metal body RJ45 plugs for more robust physical performance than standard RJ45 plugs. The cord sets are available in shielded and unshielded designs for IP20 installations and provides extended temperature range from -40C to +70C with greater plug durability due to the die cast body. The metal body plugs are also sold separately for more dependable field attachable connections than using standard RJ45 plugs.

Manufactured with Belden DataTuff Cable

The Cat 6 cord sets use Belden DataTuff cable, which incorporates Belden's patented Bonded-Pair technology. DataTuff cables feature an exceptionally rugged construction to answer the need for superior performance and reliability in applications where exposure to oil, sunlight, temperature variation, abrasion and other conditions are present. Shielded versions provide exceptional noise immunity in the presence of electromagnetic interference (EMI) and radio frequency interference (RFI)

Belden's DataTuff cables feature patented Bonded-Pair technology that provides superior electrical stability and performance because the individual conductors in each pair are affixed to each other along their longitudinal axes to ensure that no performance-robbing gaps between conductors can occur. Uniform and consistent conductor-to-conductor spacing-or concentricity-is maintained despite the rigors of installation and ongoing abuse on the factory floor.

For more information on Belden's full line of DataTuff Cat 6 and Cat 5e cord sets and connectivity, download Product Bulletin 315, visit our website at www.Belden.com or call 1-800-BELDEN-1 (1-800-235-3361).

Belden, Belden Sending All The Right Signals, DataTuff and the Belden logo are trademarks or registered trademarks of Belden Inc. or its affiliated companies in the United States and other jurisdictions. Belden and other parties may also have trademark rights in other terms used herein.

About Belden

St. Louis-based Belden Inc. designs, manufactures, and markets cable, connectivity, and networking products in markets including industrial automation, enterprise, transportation, infrastructure, and consumer electronics. It has approximately 6,800 employees, and provides value for industrial automation, enterprise, education, healthcare, entertainment and broadcast, sound and security, transportation, infrastructure, consumer electronics and other industries. Belden has manufacturing capabilities in North America, South America, Europe, and Asia, and a market presence in nearly every region of the world. Belden was founded in 1902, and today is a leader with some of the strongest brands in the signal transmission industry. For more information, visit www.belden.com.

Contact:

Chris Daulton

765-983-5324

Chris.Daulton@Belden.com

Related