Castell Salvo Protects Cascades Inopak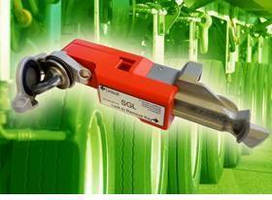 Automatic door drive-away prevention system mitigates human error

Chicago, Illinois - At its busy Drummondville, Quebec site, Cascades Inopak has chosen the Salvo system from Castell Safety to eliminate risk of unscheduled truck departures from its loading docks. The brake line interlocking system minimizes the possibility of human error to protect workers from injury and property from damage.

After a routine facility-wide Health and Safety audit at its food packaging manufacturing plant, Cascades Inopak determined that there was opportunity for increased security at the loading docks. The company wanted to go beyond restraint systems that rely on employee compliance to a more risk-free automated system like the Salvo, ensuring the highest level of protection possible to its employees.

"In smaller facilities, a restraint system might be sufficient when only a few well trained employees are performing loading and unloading," explains Cascades Inopak plant manager Serge Blais. "With the number of employees accessing trucks at our facility, it's harder to ensure that everyone is following the rules. That's why we chose the Salvo system; with it, there is no opportunity for personnel to overlook safety procedures, because they cannot open the dock door unless the system is engaged."

Each Salvo system consists of a Salvo SGL gladhand lock, control panel, and internal and external traffic lights for visual communication. When a truck arrives at Cascades Inopak's loading dock, an employee attaches the SGL to the truck's emergency brake line, immobilizing the truck. With the SGL properly attached, a uniquely coded key is released for use in the Salvo control panel. Inserting the key into the control panel turns the traffic light green inside to alert workers that the dock door is now unlocked and it is safe to enter the truck trailer, while a red light outside reminds the driver that the truck is not able to depart.

Until the automatic door is closed and locked, the control panel will not release the key, making it impossible for anyone to remove the Salvo gladhand lock from the trailer brake line before it is safe for the truck to leave. With Salvo, the dock workers are in total control of their loading dock environment.

"Our employees have found that the Salvo system is no more complicated to operate than a restraint system," says Blais. "And with it, I'm 100% confident that we are getting the highest level of dock safety."

About Castell:

Since the inception of the industrial safety industry, Castell (www.Castell.com) has been the leader in trapped key interlocking technology, developing products that keep pace with the needs of emerging markets and applications in all business sectors. Its products go beyond meeting legislation to create the safest working environments possible. A Halma company, Castell has its US offices in Chicago, Illinois.

Issued by:

Castell

150 N Michigan Ave

Suite 865

Chicago IL 60601

Tel: 312-360-1516

Fax: 312-268-5174

Email: [email protected]

Website: www.Castell.com

Press Contact:

Halma Holdings PR Services

Lisa Wallner

11500 Northlake Drive, Suite 306

Cincinnati, OH 45249

Tel: +1 513.326.8045

Fax: +1 513.772.5507

Email: [email protected]

Website: www.halmapr.com

Halma PR Profile:

Halma PR Services provides a range of media relations services to support Halma p.l.c. subsidiaries. Halma subsidiaries operate world-wide and make products for hazard detection and life protection.