CASE Software facilitates complex graphical system design.
Press Release Summary: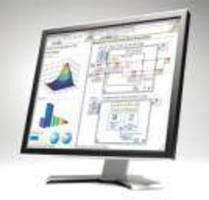 Intended for control, test, and embedded system development, LabVIEW 2009 addresses challenges of parallel hardware architectures through virtualization technology that utilizes multicore systems as well as compiler and IP that enhance FPGA design. In addition to simplifying real-time math, software makes it possible to deploy code to wireless sensor networks to build smart industrial measurement and monitoring systems and features solutions for testing multiple wireless standards.
---
Original Press Release:

NI LabVIEW 2009 Targets Emerging Applications with New Technologies



New Version of Software Simplifies Parallel Programming, Distributed Wireless Sensor Networks, RF Testing and Real-Time Math to Empower Innovation

AUSTIN, Texas, Aug. 3, 2009 -- National Instruments (NASDAQ:NATI) today announced LabVIEW 2009, the latest version of the graphical system design software platform for control, test and embedded system development. LabVIEW 2009 simplifies the development challenges of parallel hardware architectures with new virtualization technology that takes advantage of multicore systems as well as by offering new compiler improvements and IP that enhance field-programmable gate array (FPGA) design. The latest version of LabVIEW makes it possible to deploy code to wireless sensor networks to help engineers and scientists build smarter industrial measurement and monitoring systems and features new solutions for testing multiple wireless standards such as WLAN, WiMAX, GPS and MIMO systems on a single hardware platform. In addition, LabVIEW 2009 simplifies real-time math by streamlining mathematical algorithm design and deployment to real-time hardware.

To view the Multimedia News Release, go to: http://www.prnewswire.com/mnr/nationalinstruments/39273/

"In today's challenging economic climate, engineers and scientists are being asked to complete their projects with fewer resources and in less time," said Dr. James Truchard, president, CEO and cofounder of National Instruments. "With new opportunities emerging from investments in infrastructure, environmental monitoring, medical research and device design and test, we focused our LabVIEW 2009 development to harness key technologies such as multicore, FPGA design, wireless platforms and real-time math to empower innovation in these areas."

Improve Parallel System Design

Virtualization technology makes it possible to run multiple operating systems side by side on the same multicore processing hardware to build more efficient systems. New NI Real-Time Hypervisor software combines the power of the LabVIEW Real-Time Module with general-purpose OS capabilities to reduce overall system cost and size. Using this software, engineers and scientists can run Windows XP and LabVIEW Real-Time side by side on the same controller, partitioning the processor cores among the two operating systems for more efficient use of system resources. The Real-Time Hypervisor works with dual- and quad-core NI PXI controllers as well as the NI Industrial Controller.

While virtualization provides a new way to design parallel systems, LabVIEW 2009 also delivers enhancements for existing parallel design technology including multicore programming and FPGA development. LabVIEW 2009 features a new parallel for-loop structure, which automatically divides iterations of loops across multiple processors to increase the execution speed of the process. LabVIEW also further simplifies FPGA programming by offering early compile feedback and critical path highlighting to make early estimates on FPGA resource usage and better debug timing violations. Additionally, new streamlined FPGA IP delivers higher-throughput math and signal processing performance.

Create Smart Wireless Sensor Networks

Wireless sensor networks (WSNs) make it possible to deploy distributed measurements across vast physical hardware systems. With WSNs, engineers and scientists can analyze more effectively everything from rain forests and river deltas to the health and safety of buildings and bridges. LabVIEW provides the ability to configure the new NI WSN platform with a drag-and-drop programming environment for performing analysis as well as extracting and presenting measurement data. Using the new LabVIEW Wireless Sensor Network Module Pioneer, engineers and scientists can program the individual NI WSN measurement nodes to extend node battery life, increase acquisition performance and create custom sensor interfaces.

Test More Wireless Devices and Standards

With software-defined instrumentation using LabVIEW, engineers and scientists can implement the same measurement platform to acquire and analyze any modulation scheme or protocol standard rather than using dedicated box instruments for specific protocols. The new NI WLAN Measurement Suite for LabVIEW guarantees compliance with IEEE 802.11 a/b/g standards and performs measurements more than five times faster than traditional box instruments. In addition to the WLAN Measurement Suite, the WiMAX, GPS and MIMO solutions for LabVIEW provide the ability to test more wireless standards with NI modular instruments.

Deploy Real-Time Math

LabVIEW features built-in math libraries that contain more than 1,000 functions ranging from low-level, point-by-point signal processing to high-level, configuration-based implementations, all of which easily can be deployed to real-time embedded devices. With the LabVIEW MathScript RT Module, LabVIEW 2009 further expands access to real-time math, which is the implementation and deployment of mathematical algorithms to deterministic operating systems, for engineers and scientists using text-based math tools. The module also provides engineers and scientists the ability to incorporate their own existing .m files using interactive user interfaces and real-world I/O and easily deploy them to real-time hardware for faster system prototyping. By simplifying the process of deploying mathematical algorithms to real-time embedded hardware, LabVIEW 2009 can help medical device designers, machine builders and autonomous system designers shorten product time to market.

Additionally, NI is adopting an annual release cycle for LabVIEW, with version names based on the year of release. The annual release cycle solidifies the schedule, stability and feature scope of each new release to provide an easy upgrade process for customers.

Readers interested in learning more about LabVIEW 2009 and downloading the evaluation software can visit www.ni.com/labview/whatsnew. Members of the LabVIEW service maintenance and support program will receive LabVIEW 2009 automatically in the mail or can download the new version from the NI Services Resource Center at ni.com/src. Readers whose software is part of a company-wide Volume License Agreement (VLA) should contact their VLA administrators for special installation instructions.

About National Instruments

National Instruments (www.ni.com) is transforming the way engineers and scientists design, prototype and deploy systems for measurement, automation and embedded applications. NI empowers customers with off-the-shelf software such as NI LabVIEW and modular cost-effective hardware, and sells to a broad base of more than 30,000 different companies worldwide, with no one customer representing more than 3 percent of revenue and no one industry representing more than 15 percent of revenue. Headquartered in Austin, Texas, NI has more than 5,000 employees and direct operations in more than 40 countries. For the past 10 years, FORTUNE magazine has named NI one of the 100 best companies to work for in America. Readers can obtain investment information from the company's investor relations department by calling (512) 683-5090, e-mailing nati@ni.com or visiting www.ni.com/nati. (NATI-G)

Pricing and Contact Information
NI LabVIEW 2009
Priced* from $1,249;
euro 1,249; 184,000 yen

11500 N Mopac Expwy, Austin, Texas 78759-3504
Tel: (800) 258-7022,
Fax: (512) 683-9300
E-mail: info@ni.com
Web: http://www.ni.com/labview/whatsnew

*All prices are subject to change without notice.

LabVIEW, National Instruments, NI, ni.com and NIWeek are trademarks of National Instruments. Other product and company names listed are trademarks or trade names of their respective companies.

Reader Contact: Ernest Martinez, (800) 258-7022

More from Electronic Components & Devices