Cartridge Needle Valve provides precise flow adjustment.
Press Release Summary: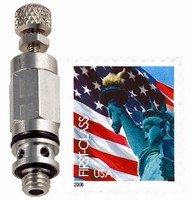 Designed for incorporation into manifold assemblies, miniature Cartridge Needle Valve allows precise flow control due to 56 threads/in. adjustment and 3° taper of needle. Adjusted flow remains stable, even during temperature fluctuations as needle and valve seat are both stainless steel. With max inlet pressure of 300 psig, valve controls flow from 0-1 scfm at 50 psig. Metal-to-metal seal provides positive shut-off down to negative pressure/vacuum of 25 in. Hg.
---
Original Press Release:

Miniature Cartridge Needle Valve



Beswick Engineering designs and manufactures high-performance miniature fluid power devices.

Beswick introduces a miniature Cartridge Needle Valve for precise flow adjustment in an extremely compact package. This innovative product can be used to control mini-cylinders, nozzles, timing circuits, filling heads, bleed vents, and in many other applications. It is designed for incorporation into manifold assemblies. Cartridge valves in concert with a manifold offer a smaller envelope, reduced assembly time and fewer parts. O-ring seals throughout the valve insure a leak proof installation.

The Cartridge Needle Valve allows precise flow control due to 56 threads per inch adjustment and three degree taper of the needle. The adjusted flow remains stable even during temperature fluctuations as the needle and valve seat are both manufactured from stainless steel. Maximum inlet pressure is 300 psig. The valve controls flows from 0 to 1 SCFM at 50 psig. The metal to metal seal provides positive shut-off down to negative pressure/vacuum of 25 in HG. The installation height is only15/16 inch. The inlet/installation thread is a 10-32 external thread with an O-ring face seal for leak tight connections.

The miniature Cartridge Needle Valve is fabricated entirely from stainless steel and it is available with a wide variety of elastomeric seals to allow excellent corrosion resistance, fluid compatibility and thermal resistance.

Applications include: fuel cell industry, medical and dental equipment, instruments, laboratory equipment, semiconductor manufacturing equipment, aerospace equipment, packaging machinery, industrial robots and many more.

Beswick products include: fittings, valves, quick disconnects, pressure regulators/gauges, cylinders, filters, orifices, shock absorbers, pressure electric switches, tubing, etc. Beswick speaks your language and can custom design products to meet your specific requirements.

For more information, please contact:
Mike Donati
Beswick Engineering Co., Inc.
284 Ocean Road, Greenland, NH 03840-2442 USA
Phone: +1 603.433.1188
Fax: +1 603.433.3313
E-mail: mdonati@beswick.com
Website: www.beswick.com