Cartridge Dust Collectors adapt to collection needs.
Press Release Summary: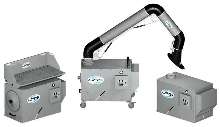 Portable, all-purpose V Series captures smoke, dust, and powders resulting from manufacturing operations. Models capture and remove contaminants at source, minimizing hazards that result from improperly controlled air borne pollutants, and promote compliance with OSHA regulations. Series includes Model VB downdraft bench, Model VF self-contained airflow and filtration source, and portable Model VP. Each model is available 2 sizes: 750 or 1,500 scfm.
---
Original Press Release:
United Air Specialists Introduces the V Series Versatile and Portable Cartridge Dust Collectors

Three Models Adapt to Varying Dust and Dry Pollutant Collection Needs

CINCINNATI, OH -December 2, 2004 - United Air Specialists, Inc. (UAS) announces the launch of the V Series (Versatile/Portable Cartridge Dust Collectors), a compact line of economical, all-purpose dust collectors designed to adapt to nearly any industrial collection task.

Ideal for a range of applications, the V Series captures the smoke, dust and powders resulting from a variety of manufacturing operations including: metalworking, grinding, polishing, sanding, sawing, mixing, blending and most other applications requiring either portable or fixed position source capture of valuable product or harmful pollutants. Capturing and removing contaminants at their source significantly reduces cost and minimizes the hazards that can result from improperly controlled air borne pollutants.

This series of UAS dust collector units helps companies comply with OSHA regulations, reduce absenteeism, improve morale and decrease operational costs. By removing the pollutant particles close to the sources, the V Series units prevent dust from migrating to areas with sensitive electrical mechanical equipment and cross contamination through other processes.

The V Series is available in three configurations:

· Model VB: A downdraft bench designed for applications where workers need an integrated collection area and work surface. Ideal for grinding and finishing operations, the bench draws particles and contaminants away from the worker's breathing zone. The heavy-duty grated work surface can accommodate loads of up to 75 pounds per square foot, and uniform air distribution maintains superior dust control over the entire work surface bench work area.

· Model VF: This self-contained unit serves as the airflow and filtration source for an entire system. Ideal for ducted operations, the Model VF system's small cabinet size allows the unit to be positioned close to the source of the dust, conserving valuable floor space.

· Model VP: This portable version is designed for applications where permanent hoods and dust collectors are impractical, such as situations when dust and smoke-producing work is done only intermittently, or when workers regularly move from one station to another. The Model VP glides on five-inch caster wheels and can be easily moved by a single person. A high-quality swing arm featuring a unique hood design allows the collection point to be positioned closely to the dust or smoke source.

Each of the three models is available in two compact, low profile sizes - 750 sCFM or 1,500 sCFM - to meet customer needs based on space availability and the volume of dust. Units are customized with a wide selection of high-efficiency filters including fire-retardant, wide pleat, washable, Spun-Bond, PTFE membrane and others.

Additional features standard on all V Series cleaners include:

· Auto-cleaning: Pulses of compressed air dislodge dust from the filters automatically upon shutting off the unit.

· Acoustic sound attenuation: Units are designed to operate below 82 decibels - no louder than a household vacuum cleaner.

· High-capacity dust drawers: These allow for longer periods of uninterrupted operation before collection drawers must be emptied.

· Tool-free maintenance: Filters and dust collection bins can be manually inspected and/or emptied and changed without the use of any tools.

· Pressure gauges: Indicate when filters require replacement, eliminating the guesswork.

· Powder coated finish: All components of the V Series are powder coated to prevent fading, chalking and corrosion.

· Optimal performance and design: The entire line was developed with powerful CFD (Computational Fluid Dynamics) engineering programs combined with UAS's proven expertise and "engineering firsts" in Air Pollution Control equipment designs and innovative solutions.

In addition to these features, V Series units arrive factory assembled, requiring minimal setup prior to use.

The V Series is currently available through UAS's experienced network of manufacturer representatives and distributors. For more information on UAS, the V Series and a complete list of representatives and distributors, visit the UAS web site at www.uasinc.com.

About United Air Specialists

For more than 35 years, United Air Specialists, Inc. has been the industry's leading manufacturer of technologically innovative, high-performance air filtration systems and equipment for a wide range of commercial and industrial environments and applications. United Air Specialists, Inc., www.uasinc.com, is a CLARCOR company.
More from Mechanical Power Transmission