Cart Mover comes in IP65-rated, stainless steel construction.
Press Release Summary: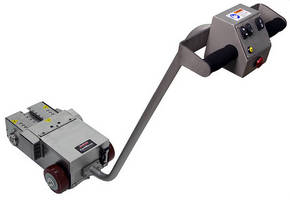 Stainless Steel IP65 CartMover™ features heavy-duty, stainless steel construction with internal fender around drive, roller for deflecting splash up, as well as sealed controls in handlebar and sealed speed controller housing. Electrical connectors on harnesses, as well as motor and gearbox, are duty rated. IP65 CartMover™, which carries IP65 rating, is also available in steel version.
---
Original Press Release:

Announcing Increased Availability of the IP65 CartMover(TM)



(Neenah, WI):



Appleton Mfg. Division is announcing increased availability of the IP65 CartMover™, their IP65 rated version of the popular battery-powered CartMover™. In addition, they are making the IP65 CartMover™ available in a steel version as well as the traditional stainless steel model. Added to the product lineup in late 2012 after only being available to select clients, the IP65 has proven popular enough to warrant an increase in production capacity.



For several years now it has been used in production environments by some of North America's largest producers of dairy and smoked meat goods. Several Fortune 500 pharmaceutical companies use the IP65 CartMover™ to move mixing vats. These past cases of industrial usage represent long term production use, not merely R & D or testing scenarios.



The Stainless Steel IP65 CartMover™ features include:



Heavy-duty Stainless Steel construction

Sealed speed controller housing

Sealed controls in handlebar

Internal "fender" around drive

A roller to deflect splash up

Duty rated electrical connectors on harnesses

Duty rated motor and gearbox



"We have really dialed in the design and build of the IP65 CartMover™," comments Mark Rasper, Appleton Mfg. Division's Engineering Manager. "It has performed exceptionally well in numerous 'wash down' type environments over the years."



Appleton Mfg. Division is a fully integrated engineering, design, sales, service and manufacturing firm dedicated to providing innovative products and superior customer service. Appleton Mfg. Division offers a full line of core cutters, custom and semi-custom core handling and finishing equipment, compact battery powered roll and cart movers, Safe-Slab™ Core Recyclers, cleaning showers/systems, as well as parts and service for all lines.

More from Materials