Carstens Presents WALLAroo Medication Distribution Systems with Wi-Fi Enables RFID Locks
Press Release Summary: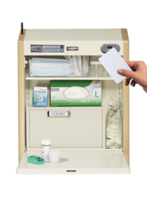 Offered in various sizes and configurations to provide sturdy work surface for preparing medications
Designed for use in healthcare facilities for storing medications and supplies at the point-of-care
RFID lock option offers instant control of each cabinet's access permissions from one administrative PC
---
Original Press Release:
Carstens Unveils Point-of-Care Medication Cabinets with Access Control and Audit Trail at HIMSS19
CHICAGO (PRWEB) FEBRUARY 13, 2019 - Carstens, Inc. is excited to announce the launch of their WALLAroo® Point-of-Care Medication Distribution System. It features Wi-Fi enabled RFID Locks that provide healthcare facilities with instant control of each cabinet's access permissions from one administrative PC, and a live audit trail on the network for superior access control and shrinkage protection. For years WALLAroo cabinets have been used in healthcare facilities nationwide to store medications and supplies at the point-of-care, and today Carstens is offering this new RFID Lock option. 
With increased awareness and stricter regulations surrounding medication accountability, drug diversion, and the opioid addiction crisis, Carstens recognized a need for a WALLAroo cabinet that offers additional security that will reduce the chance of medication errors and HIPAA violations. The RFID Lock gives administrators the ability to allow and deny access to medications in WALLAroo cabinets and monitor every cabinet in a facility's system using the lock's Control Software.
Authorized staff hold their ID badge to the RFID Lock on the WALLAroo cabinet and the door unlocks and records the user name and time, transmitting the data over Wi-Fi to the Control Software. The administrator can view these events as they occur and can program automatic audit trail data reports to send to a list of email addresses on a daily, weekly or monthly basis. This audit trail feature encourages employee accountability, and investigating medication discrepancies can be accomplished quickly. 
The lock works with existing ID badges (HID® Prox and HID iCLASS®), can be battery operated and is networked wirelessly making the WALLAroo with RFID Locks easy to install and implement. The WALLAroo cabinet itself is space saving, durable and seamless for infection control. They come in a variety of sizes and configurations and provide a sturdy work surface for prepping medications.
"We are excited to offer this advanced RFID option that gives administrators greater control over who has access to medications and audit trail visibility," said Mike Cook, Vice President of Sales and Marketing. "The WALLAroo with RFID Locks, when used throughout a facility, become a medication distribution system that is less costly than other automated medication dispensing systems used today. There are no ongoing service fees and the system is scalable to work within your budget."
WALLAroo with RFID Locks are on display this week at Carstens' booth (#7466) at HIMSS19 in Orlando, Florida. For product information visit http://www.carstens.com or call 1.800.782.1524.
About Carstens, Inc.
Carstens is a leading provider of healthcare support products — serving thousands of healthcare facilities nationwide. From traditional patient record systems to electronic health record (EHR) support products, wall-mounted and mobile units, Carstens offers custom solutions designed to increase productivity and enhance interaction at the point-of-care. Carstens is a Certified Woman-Owned Small Business that manufactures all products in the USA at their headquarters in Chicago, IL. Carstens prides itself on being able to offer customers factory-direct pricing and excellent customer service. Further information about Carstens, Inc. can be found at http://www.carstens.com.
Contact Information
Kylen Cieslak
Carstens, Inc.
1.800.782.1524
More from Packaging Products & Equipment