Carrier Board enables power densities up to 30 W/XMC.
Press Release Summary: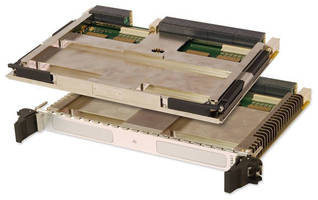 Supporting range of I/O options, PEX441 Rugged 6U VPX XMC Carrier Card integrates array of XMC modules into distributed, fabric-based architecture. Thermal load can be spread across multiple system slots for air- and conduction-cooled applications supporting high compute density. Unit can accommodate 1 or 2 XMCs. Available in 5 build levels suitable for benign through to harsh environments, it is optionally compliant with VITA 48/REDI specification for rugged systems.
---
Original Press Release:

GE Fanuc Intelligent Platforms Announces Rugged 6U VPX XMC Carrier Card for Sophisticated High Performance Systems



PEX441 offers excellent thermal performance, enables power densities up to 30 watts/XMC

Charlottesville, va, SEPTEMBER 2, 2009 GE Fanuc Intelligent Platforms, a unit of GE Enterprise Solutions, today announced the PEX441 Rugged 6U VPX XMC Carrier Card. Designed to enable system architects and integrators to include a broad range of high performance XMCs in their designs, the PEX441 is specifically optimized for excellent thermal performance, with the capability to enable power densities of up to 30 watts per XMC. One or two XMCs can be accommodated. Typical XMC applications will include system I/O, FPGA processing, graphics and digital/analog and analog/digital interfaces.

The PEX441 supports a broad range of flexible I/O options, allowing systems designers a choice of switched fabric topology.

"High performance mezzanine cards are becoming increasingly prevalent as designers look to create sophisticated systems that are extremely functionality-dense," said Peter Cavill, General Manager, Military & Aerospace Products at GE Fanuc Intelligent Platforms. "However, this density creates problems with managing power and heat dissipation - a key design issue - if maximum reliability is to be achieved. The PEX441 addresses this requirement by supporting the use of high performance XMCs on a carrier card that can cater for challenging power densities."

The PEX441 is available in five build levels, providing a cost-effective choice between platforms for benign environments through to systems that will be deployed in harsh environments. It is optionally compliant with the VITA 48/REDI specification for rugged systems.

Designed to support leading edge XMCs such as GE Fanuc's Xilinx® Virtex(TM)-5 based XMCV5, the PEX441 allows system designers to migrate their XMC laboratory systems to a rugged, deployable 6U VPX form factor in order to exploit the full complement of high speed digital I/O available through a standard VPX backplane. It extends the functional envelope of a 6U VPX system by leveraging an array of GE Fanuc- or customer proprietary XMC modules into a distributed, fabric-based architecture, removing the need to host high power mezzanines on high power CPU cards. Thermal load can be spread across multiple system slots for both air- and conduction cooled applications supporting high compute density.

The PEX441 is part of a growing GE Fanuc 6U VPX product family that includes the SBC610 and SBC620 single board computers, the DSP230 quad processor and AXIS, the Advanced Multiprocessor Integrated Software development environment. For systems that require both PMC and XMC support GE Fanuc offers the PEX440 which includes an on-board PCIe switch architecture with connection to the primary fabric plane.
For more information: www.gefanucembedded.com.

About GE Fanuc Intelligent Platforms

GE Fanuc Intelligent Platforms, a joint venture between General Electric Company (NYSE: GE) and FANUC LTD of Japan, is an experienced high-performance technology company and a global provider of hardware, software, services, and expertise in automation and embedded computing. We offer a unique foundation of agile, advanced and ultra-reliable technology that provides customers a sustainable advantage in the industries they serve, including energy, water, consumer packaged goods, government & defense, and telecommunications. GE Fanuc Intelligent Platforms is a worldwide company headquartered in Charlottesville, VA and is part of GE Enterprise Solutions. For more information, visit www.gefanuc.com.

About GE Enterprise Solutions

GE Enterprise Solutions elevates customers' productivity and profitability with integrated solutions using sensors and non-destructive testing; security and life safety technologies; power system protection and control; and plant automation and embedded computing systems. Enterprise Solutions' high-tech, high-growth businesses include Sensing & Inspection Technologies, Security, Digital Energy, and GE Fanuc Intelligent Platforms. The business has 17,000 problem-solving employees in more than 60 countries around the world.

Xilinx is a registered trademark, and Virtex is a trademark, of Xilinx Inc. All other trademarks are the property of their respective owners


More from Thermal & Heating Equipment