Carriages offer space-saving design for ball monorail.
Press Release Summary: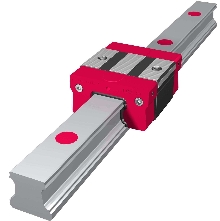 Ball Monorail Carriages, Models BMK 15/20, range from 24-28 x 34-44 x 37-47.7 mm. Static loading capacities are from 8,500 N for size BMK 15 and 13,100 N for BMK 20, while dynamic loading capacities range from 5,200 N for BMK 15 and 8,400 N for BMK 20. MONORAIL BM comes in 3 preload categories, 4 accuracy grades, and has single rail lengths up to 6,000 mm. Max speeds of 5m/s and accelerations of 100m/s² can be achieved. Operating temperature is -40 to +80°C.
---
Original Press Release:

Ultra Compact Carriage Now Available For Schneeberger Ball Monorail


New Product/Design Engineering/OEM Manufacturing

Bedford, MA, February 27th, 2004--Schneeberger, Inc.- announced the addition of the extremely compact BMK Ball Monorail Carriage to their family of carriages for Ball Monorail-MONORAIL BM. The reduced height, length and width of the carriage offers a space saving solution that allows for lower profile stages with less mass.

The new BMK carriage is available in two sizes- BMK 15 and BMK 20. Dimensions range from 24 to 28mm in height, 34 to 44mm in width, and 37 to 47.7mm in length. Static Loading Capacities range from 8500N for size BMK 15 and 13100N for BMK 20. Dynamic Loading Capacities range from 5200N for BMK 15 and 8400N for BMK 20.

The MONORAIL BM offers outstanding running characteristics such as: low pulsation, low friction values and high traveling speeds. Consisting of a few optimally designed components, the MONORAIL BM achieves high rigidity due to the trapezoid-shaped rail cross section and also has excellent resistance to moment loads. Due to the selected ball arrangement, this guideway has a high load bearing capacity equal in any direction.

The robust construction of the MONORAIL BM is evident by the fact that the balls are securely held in the tracks of the carriage at all times. Therefore an assembly rail for installing or removing the carriage is not required.

Simultaneously, the maintenance effort required is significantly reduced because parts subject to wear can now be
replaced without having to dismantle the guideway. The complete sealing of the carriages guarantees high reliability in conjunction with a long service life.

Available in sizes 15, 20, 25, 30, 35, and 45, the MONORAIL BM comes in three preload categories, four accuracy grades and has single rail lengths of up to 6,000mm. Maximum speeds of 5m/s and accelerations of 100m/s² can be achieved. Typical operating temperatures are -40°C to +80°C. Short-term temperatures up to 120°C are possible.

Schneeberger Inc., one of four subsidiaries of W. Schneeberger AG, headquartered in Switzerland, markets precision linear motion components and systems for demanding applications. Products include ball and cross-roller bearings, miniature slides and rails, profile guides, automated linear and rotary modules, multi-axis positioning systems, and precision ball screws. Based in Bedford, MA, Schneeberger, Inc sells directly through regional sales offices located throughout the US. For more information, contact Schneeberger at 1-800-854-6333 or visit www.schneeberger.com

More from Material Handling & Storage