Carousel Wash System is adapted for de-oiling and chip removal.
Press Release Summary: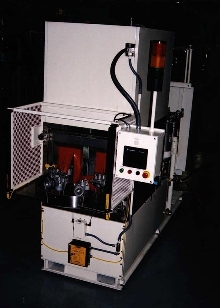 Cell-Mate 200 is fitted with carousel return-to-front conveyor. It is built on rigid steel chassis with fork lift channels for relocation. Stainless steel fabrication of solution tank and process chambers provides resistance to corrosive, aqueous chemistries. High-impact, V-spray nozzles surround component in first process chamber, while second chamber utilizes multi-adjustable air knives that deliver heated, turbo-blown air.
---
Original Press Release:
Carrousel Wash System

July 17, 2002 - Saratoga Springs, NY - Guyson Corporation has introduced a sub-compact parts cleaning and drying system that is specially adapted for de-oiling and chip removal in single piece flow machining operations. The Cell-Mate 200 is fitted with a carrousel return-to-front conveyor.

The work cell parts washer is built on a rigid steel chassis that has fork lift channels for easy relocation in response to shifts in demand. A standard machine's footprint is 36.5 inches by 81 inches (93 cm x 206 cm), partly reduced by location of elements such as blowers on top of the cleaning chamber, giving the system an overall height of 102 inches (258 cm).

Stainless steel fabrication of the solution tank and process chambers provides substantial resistance to potentially corrosive aqueous chemistries. Mild steel sheathing covers the heavy insulation of the electrically heated solution tank and the sound-deadening insulation of the superstructure.

In many cases, the conveyor will be fitted with part-holding fixtures to ensure that the components are precisely oriented for optimum cleaning, drainage and drying. High impact V-spray nozzles surround the component in the first process chamber, with jets positioned for maximum impingement of hot solution where it is needed.

The second process chamber, parallel and of equal length to the wash tunnel, contains multi-adjustable air knives that deliver heated, turbo-blown air at high velocity to strip solution from
component surfaces and present dry parts at the unload station.

A compact graphical touch-screen control panel is linked to the CellMate's programmable logic controller (PLC). Process data such as solution temperature and belt speed can be displayed to the operator at the interface. Fault indications, maintenance diagnostics or production statistics can also be conveniently shown, or access can be restricted by password protection.

Prospective users of the carrousel washer are encouraged to submit sample components for free laboratory testing and application engineering evaluation at the manufacturer's plant in northern New York State.

CONTACT FOR MORE DATA: J. C. Carson

518-587-7894, ext. 226

jccarson@guyson.com

More from Sensors, Monitors & Transducers