Card Interfaces offer one-piece configuration.
Press Release Summary: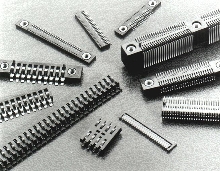 One-piece FSI, SEL, SCC, SIB, OPP and SEI Series interfaces reduce number of components required for board stacking. They have threaded inserts to mount connectors to boards. FSI dual row interfaces on 1 mm pitch provide board spacings from 3 to 10 mm; for low profile applications, SEL and SEI are available with up to 30 contacts in single row; SCC has Smart Card interfaces, OPP is one-piece power interface, and SIB is traditional strip style interface.
---
Original Press Release:
Large Variety of One-Piece Interface Solutions Offerd by Samtec

Samtec one-piece interfaces provide low cost board stacking by reducing the number of components required to be purchased and processed. One-piece interfaces are ideal for high shock/vibration applications due to their robust design with threaded inserts to mount the connectors to the boards. They can also improve quality over elastomeric systems and pin-and-socket systems due to their more reliable connections and the elimination of bent pins.

Dual row interfaces (FSI Series) on 1 mm (.0394") pitch provide a range of board spacings from 3mm (.118"), 6mm (.236") and 10mm (.394") between boards with up to 40 pins per row. For ultra low profile applications on 1mm (.0394") pitch, .025" (.635mm) and .050" (1,27mm) board spacings (SEL Series) and 1,65mm (.065") board spacings (SEI Series) are available with up to 30 contacts in a single row.

On .100" (2,54mm) pitch, systems include Smart Card interfaces (SCC Series) and one-piece Power interfaces (OPP Series) for speciality applications. For traditional strip style interfaces on .100" (2,54mm) pitch (SIB Series), a .150" (3,81 mm) profile and up to 30 contacts is available. Pricing begins at .05¢ - .07¢ per line on the FSI series and .08¢ - .12¢ per line on the SEL/SEI, SED, SCC and OPP series.

For more information on Samtec's complete line of One Piece Interfaces, contact: Samtec, Inc., PO. Box 1147, New Albany, IN 47151-1147, Phone: 1-800-SAMTEC-9 or 812-944-6733, Fax: 812-944-5047, Internet: http.//www.samtec.com, E-mail: info@samtec.com.

More from Mounting & Attaching Products