Card Connector/Reader suits high mating cycle applications.
Press Release Summary: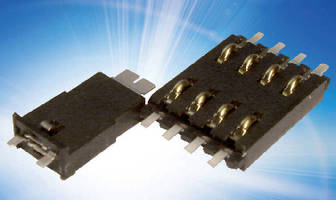 Designed for top and reversed mount applications, FMS008-4000-xx is available with variable reading system for SIM and Smart cards. With low assembly height of 0.95 mm, 8-pin SIM block card reader can be used with separate card recognition switch, which can be mounted on PCB in different positions independently from card reader. Both switch and reader offer contact durability of 10,000 mating cycles.
---
Original Press Release:

New SIM Block Card Reader with Separate Switch



For top and reversed mount applications

Munich, October 2009 - Yamaichi Electronics now offers with the FMS008-4000-xx connector a variable reading system for SIM and Smart cards.

The card reading system's basis is a 8-pin SIM block card reader which is special because of its low assembly height of 0.95 mm. This low profile allows for an embedded assembly processing, i.e. the card reader is embedded into the PCB. This feature significantly facilitates the insertion of the cards and additionally reduces the load on the SIM or Smart cards in use.

The possibility of using the card reader together with a separate switch is a special advantage. The need for a switch depends on the end-user's requirement of having a card recognition switch or not. According to the card application the switch can be mounted on the PCB in different positions independently from the card reader.

A highlight feature is the high contact durability of 10,000 mating cycles not only for the card reader but also for the switch. Thus the system is especially suitable for applications with high mating cycles.

The card reader and the switch can be SMT soldered either on the top or reversed side of the PCB. Therefore they apply to cards for top or reversed side usage. The system is delivered with tape and reel packaging.

Yamaichi Electronics do not only offer this low size component but a wide range of card connectors for all available Flash and SIM card types with different form factors like microSD, miniSD, SD, RS-MMC, MMCmicro, MMC, CompactFlash, xD etc., as well as multicard versions.

More technical details, electrical specifications and further products for mobile and other applications can be found under www.yamaichi.eu or directly in the datasheet www.yamaichi.eu/pdf/c_fms008-4000.pdf or in the catalogue "Connectors & Sockets 2009" which can be ordered on the above mentioned website.

For any product queries please use the address info@yamaichi.de

About Yamaichi Electronics

Yamaichi is a market leader for test & burn-in sockets, connectors and connection systems - areas in which reliability and function safety are essential for the success of the whole project. Yamaichi has established itself very quickly on the world market as a manufacturer of high-quality and reliable components for ambitious applications in the following sectors: telecommunications infrastructure, industrial automation, mobile computer technology, mobile telephones, GPS systems, printers, digital cameras, camcorders, as well as electronic devices in the retail trade, industry and electronics.

Yamaichi Electronics Deutschland GmbH

Karl-Schmid-Str. 9, 81829 Munchen, Germany

Tel. +49 (0)89 - 4 51 09-0

Fax: +49 (0)89 - 4 51 09-110

www.yamaichi.eu

More from Agricultural & Farming Products