Capsule Inspection System handles 220,000 capsules/hr.
Press Release Summary: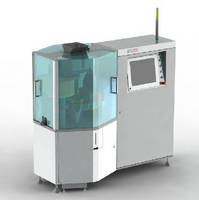 Based on X-ray technology, Model KKK 3900 delivers weight identification, foreign particle detection, length measurement, and deformation recognition in one process step with minimal interference. System can be installed after any capsule filling machine and achieves output up to 220,000 capsules/hr. Capsules that are not in line with desired requirements are discharged individually. Real-time image evaluation resists vibration, air flow, and dampness.
---
Original Press Release:

Bosch Introduces Compact Inspection Unit KKX 3900 for Capsules



Quality control with x-ray technology

Weight identification, foreign particles detection, length measurement
and deformation recognition in only one process step

Output of up to 220,000 capsules per hour

Real-time identification of process relevant data

At Achema 2012 in Frankfurt/Main, Germany, Bosch Packaging Technology introduces the new inspection unit KKX 3900 for capsules at its booth (C70, C72) in hall 3.1. Based on x-ray technology, the machine serves as a system for comprehensive and 100 percent weight and quality control. The small inspection unit is equipped with soft x-ray technology and an associated sensor for image creation.

"The KKX 3900 is universally applicable and apart from filling weight control provides further advantages. For the first time, an inspection unit is capable of simultaneously checking all quality features like weight, foreign particles, deformation of capsule top and bottom, as well as length," explained Melanie Beck, product manager at Bosch Packaging Technology.

Complete process control through digital image evaluation

The KKX 3900 is used for the inspection of filled hard capsules. It can be installed after any capsule filling machine and achieves an output of up to 220,000 capsules per hour. The 100 percent inspection of filling weight is based on x-ray technology. Apart from the 100 percent inline weight control, the digital image evaluation gathers further information. "Besides filling weight information, the system also measures the length of capsules.

Additionally, foreign particles in the filling product or capsule material are detected. Therefore, capsule quality is examined comprehensively and in one single process step," said Melanie Beck. Capsules that are not in line with desired requirements are discharged individually. The innovative realtime image evaluation resists vibration, air flow and dampness.

The system provides several financial and pharmaceutical advantages. The combination of four measurement systems in one compact unit with minimal interference leads to reduced space requirements as well as lower costs and allows for significant increase in productivity. The individual discharge of capsules that are not in line with requirements yields a higher output. Furthermore, complete process control enhances the security of subsequent processes and, as a result, saves even more on costs. So far
capsules had to be checked individually or in downstream processes.

Capsules that were not closed correctly could re-open when packaged into blisters and cause significant product damage. With the KKX 3900, the first capsule inspection unit is available checking different, process-relevant data in real-time.

The exact process control adopts several functions of visual systems for error identification. Further process control features are currently being developed and can be activated by software updates. The system is easy to use. The qualification of the machine is a quick and uncomplicated procedure and adjustment is automatic.

The Bosch division Packaging Technology, based in Waiblingen (Germany), is one of the
leading suppliers in the field of processing and packaging technology. In more than 15
countries worldwide it develops and produces complete solutions for the pharmaceutical,
food and confectionery industries. The comprehensive service portfolio completes the
package. The worldwide sales and service network offers local contacts. More information at www.boschpackaging.com

The Bosch Group is a leading global supplier of technology and services. According to
preliminary figures, more than 300,000 associates generated sales of 51.4 billion euros in the areas of automotive and industrial technology, consumer goods, and building technology in fiscal 2011. The Bosch Group comprises Robert Bosch GmbH and its more than 350 subsidiaries and regional companies in some 60 countries. If its sales and service partners are included, then Bosch is represented in roughly 150 countries. This worldwide development, manufacturing, and sales network is the foundation for further growth. Bosch spent more than 4 billion euros for research and development in 2011, and applied for over 4,100 patents worldwide. With all its products and services, Bosch enhances the quality of life by providing solutions which are both innovative and beneficial.

The company was set up in Stuttgart in 1886 by Robert Bosch (1861-1942) as "Workshop
for Precision Mechanics and Electrical Engineering." The special ownership structure of
Robert Bosch GmbH guarantees the entrepreneurial freedom of the Bosch Group, making it
possible for the company to plan over the long term and to undertake significant up-front investments in the safeguarding of its future. Ninety-two percent of the share capital of Robert Bosch GmbH is held by Robert Bosch Stiftung GmbH, a charitable foundation. The majority of voting rights are held by Robert Bosch Industrietreuhand KG, an industrial trust. The entrepreneurial ownership functions are carried out by the trust. The remaining shares are held by the Bosch family and by Robert Bosch GmbH.
Further information is available online at www.bosch.com and www.bosch-press.com

More from Agricultural & Farming Products