Capsule Filling Machine suits laboratory-scale applications.
Press Release Summary: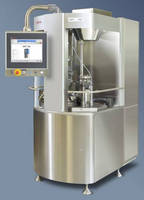 Equipped with dosator filling station, modular GKF 702 produces small batches. Production parameters required later during production can be fully simulated, and Mini-Bowl filling station handles product batches from 100-300 mL. Also available, slidegate system provides for higher yields as well as option of filling free-flowing granulates, or pellets, via powder station. Machine comes with 17 in. touchscreen industrial PC. Multiple interfaces facilitate access to batch documentation.
---
Original Press Release:

Bosch Launches GKF 702 in the US Market Capsule Filling Machine for Laboratory Scale Filling Applications

One solution for liquids, tablets, pellets, and powders

Innovative, expandable platform for future filling stations

Flexible usage for pharmaceutical development

At Interphex 2012 in New York, Bosch Packaging Technology presents the GKF 702 capsule filling machine with dosator filling station for the first time in the USA. It replaces the previous GKF 701 model. Most recently, dosator technology has been added as a dosing module to the GKF 702's portfolio. "The GKF 702 will continue the success of the previous model. Its performance was upgraded and improved during the re-development process", explained Product Manager Melanie Beck. With the GKF 702, customers can expect the same flexibility and user-friendliness that was a mainstay of the GKF 701 for the past years.

To keep up with the demands of the modern pharmaceutical industry, the GKF 702 has been designed to produce small batches right in the laboratory. The production parameters required later during production, such as the machine speed, can be fully simulated. "Therefore, the machine is able to produce small batches for research and development (R&D) or clinical purposes under realistic production conditions," Melanie Beck pointed out. For laboratory use a specially designed filling station, known as the "Mini-Bowl" was developed for small product batches between 100 and 300 milliliters, which provides higher powder yields. This is especially suitable for expensive and limited powder volumes during the development phase, providing a very economic filling solution. A "slidegate" system, from the GKF 1400/2500 series, is also available, providing significantly higher batch yields and the option of filling free-flowing granulates, or pellets, via the powder station.

The GKF 702 is a "future-proof" machine. Its modular design offers the possibility to re-tool the machine for any future filling needs and new developments from Bosch will be compatible with this machine type. As an example, the micro-dosing station on the GKF 2500 will soon also be available for the GKF 702. Furthermore, the user-friendliness, ergonomics, and the accessibility of the previous GKF 701 machine have been transferred and improved upon in the GKF 702. Most format parts from the GKF 700 and GKF 701 can also be used on the GKF 702. The new design includes an industrial PC (IPC), which is 21 CFR Part 11 compliant and features a 17" touchscreen. Various interfaces such as LAN, USB and a DVD burner, make batch documentation easier to access.

The GKF 702 is on show at Interphex, May 1-3, 2012 at the Jacob K. Javits Center in New York, booth 2227.

The Bosch division Packaging Technology, based in Waiblingen (Germany), is one of the
leading suppliers in the field of processing and packaging technology. In more than 15
countries worldwide it develops and produces complete solutions for the pharmaceutical,
food and confectionery industries. The comprehensive service portfolio completes the
package. The worldwide sales and service network offers local contacts. More information
at www.boschpackaging.com

In the U.S., Canada and Mexico, the Bosch Group manufactures and markets automotive
original equipment and aftermarket products, industrial drives and control technology,
power tools, security and communication systems, packaging technology, thermotechnology, household appliances, solar energy, healthcare telemedicine and
software innnovations. Having established a regional presence in 1906, Bosch employs over 22,500 associates in more than 100 locations, with sales of $9.8 billion in fiscal year 2011, per preliminary figures. For more information, visit www.boschusa.com.

The Bosch Group is a leading global supplier of technology and services. According to
preliminary figures, more than 300,000 associates generated sales of 51.4 billion euros
($71.5 billion) in the areas of automotive and industrial technology, consumer goods, and building technology in fiscal year 2011. The Bosch Group comprises Robert Bosch GmbH
and its more than 350 subsidiaries and regional companies in some 60 countries. If its
sales and service partners are included, then Bosch is represented in roughly 150
countries. This worldwide development, manufacturing, and sales network is the foundation for further growth. Bosch spent more than 4 billion euros ($5.5 billion) for research and development in 2011, and applied for over 4,100 patents worldwide. With all its products and services, Bosch enhances the quality of life by providing solutions which are both innovative and beneficial. Further information is available online at www.bosch.com and www.bosch-press.com.

More from Electronic Components & Devices