Capacitors are for use in high power ac filtering.
Press Release Summary: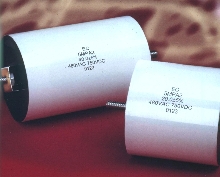 Series 5MPA film capacitors are supplied with bolt-down terminations at voltage ratings of 530 Vac. Capacitance values to 10 µF are supplied with brass bolt termination and values to 100 µF are supplied with bridge and bolt construction. Units provide continuous operation to 85°C with current handling spectrums from 50 Hz line to 20 kHz sumperimposed feedback. Wrapped in flame-retardant sleeves, capacitors are designed for 480 Vac motor drive systems.
---
Original Press Release:
New Dry Film AC Capacitor Line Designed For Use In High Power AC Filtering For Motor Run Applications

Eatontown, New Jersey... a new series of film capacitors for motor run applications where high PWM and other feedback currents are present on top of the line frequency offers superior performance versus other brands, because of the unique high current and frequency response terminations and the dry film construction, that results in improved space utilization and reliability -is now available from the manufacturer, Electronic Concepts, Inc.

The 5MPA FILM CAPACITOR SERIES are supplied with robust bolt down
terminations at voltage ratings of 530vac. Capacitance values up to l0uF are supplied with a brass bolt termination and higher values to 100uF are supplied with a unique "bridge & bolt" construction, both with multiple internal soldered contact points for high current distribution and current handling.

Performance properties include continuous operation to +85 C with current handling spectrums from 50Hz line to 20kHz superimposed feedback. Intended for use in 480vac motor drive systems and other high power ac systems, the units are wrapped
with flame retardant insulating sleeves and endfilled with flame retardant potting compound. Current handling capabilities from normal line frequency currents to 83amps RMS from 2kHz to resonant frequency. Capacitors are individually tested for
capacitance tolerance, dissipation factor, dielectric withstanding voltage and insulation resistance.


More from Agricultural & Farming Products