Capacitor Banks prevent and cure dirty power.
Press Release Summary: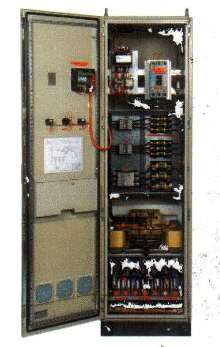 Power Failure Correction Filter Systems come in fixed units ranging from 3 to 130 KVAR for providing fixed level of capacitance that reduces reactive VAR's. Automatic units range from 25 to 900 KVAR and continuously measure VAR's with automatic on and off switching of level of reactive capacitance necessary to regulate power factor to preset value. Alarms and visual displays of power factor, voltage, current, KW, KVA, KVAR, and harmonic percentage are included.
---
Original Press Release:
Capacitor Banks Help Prevent Downtime, Power Failure Penalties, and Equipment Damage

Tech-Tran's Standard capacitor banks or Power Failure Correction Filter Systems are designed to prevent (and cure) so called "dirty power".

Fixed units - 3 KVAR to 130 KVAR- provide a fixed level of capacitance that reduce reactive VAR'S which avoid costly energy charges and penalties.

Automatic units provide the same results for 25 KVAR to 900 KVAR by continuously measuring VAR'S with automatic on and off switching of the level of reactive capacitance necessary to regulate the power factor to preset value.

Alarms and visual displays of power factor, voltage, current, KW, KVA, KVAR, harmonic percentage is included. Remote outputs optional.

All units are ISO 9001 manufactured, are UL listed and carry a 3-year warranty. Tech-Tran has been an Inductotherm company since 1966.

Tech-Tran Corporation, 50 Indel Ave. Rancocas, NJ 08073

Phone: 609-267-6750 Fax 609-267-6751
More from Electrical Equipment & Systems