Capacitive Touchscreens provide optimal transparency.
Press Release Summary: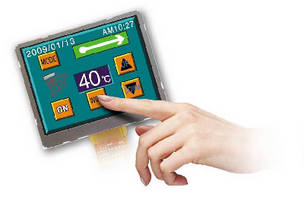 Touchscreens are designed with capacitive touch switch technology that detects variations in position and command and responds to fingertip input control without requiring application of any pressure. Operating from -20 to +70°C, switches have minimum transparency of 95%, less than 15% reflection, and approximate lifetime of 100 million cycles. Display sizes include 3.0 and 3.5 in. transmissive and 3.5 in. transflective.
---
Original Press Release:

Optrex Capacitive Touch Switches Provide Higher Transparency with Less Reflectivity and are Easier to Use



Plymouth, MI, - Display Innovator Optrex America Inc. has developed an advanced capacitive touch switch technology that detects variations in position and command, eliminates air gaps and reduces the number of layers required. This technology offers the highest standards of optical performance with exceptional ease of design for human machine interfaces, handheld terminals, gaming, medical equipment, and point-of-sale and mobile applications.

The capacitive touch screens respond to fingertip input control without requiring application of any pressure. The structures are very robust and the sensor elements will not wear out. Lifetimes are approximately 100 million touches.

Optrex's new capacitive touch switch solutions provide outstanding clarity and ease of design. Improved visibility results from less reflectivity and higher transparency of the image displayed through the touch panel and allows for a thinner touch screen in front of the LCD (up to 0.5 mm - 0.7 mm thick in the viewing area). Transparency is a minimum of 95% and reflection is less than 15%. The capacitive touch screens also have a wide operating temperature range, -20°C to +70°C.

Touch screens utilizing Optrex's technology are more compact, lighter in weight, more durable (including better resistance to liquids) and easier to clean.

Display solutions incorporating Optrex's capacitive touch technology are currently available for demonstration and new product designs in 3.0-inch (T-55149), 3.5-inch transmissive (T-55343) and 3.5-inch transflective (T-51963). Additional sizes in 5.7-inch (T- 55265) and 6.5-inch (T-51750) diagonal will soon be available. Optrex can provide the touch switch solution alone or in combination with a TFT LCD.

Sample pricing is $50.00 for T-55343 (3.5" transmissive); $66.00 for T-55149 (3.0" transflective); and $70.00 for T-51963 (3.5" transflective). For more information, contact Optrex America, Inc., 46723 Five Mile Road, Plymouth, MI 48170. 734-416-8500; www.optrex.com

About Optrex

Optrex was formed in 1976 by Asahi Glass and Mitsubishi Electric. Headquartered in Tokyo, Japan, Optrex has followed an aggressive policy of growth and expansion and now serves customers through an extensive in-field network of applications engineers and more than 100 sales and distribution offices throughout the world, including Optrex America Inc. in Plymouth, MI, USA. As a leading designer and manufacturer of flat panel displays, Optrex provides several strengths of interest to OEMs including: a 30-year track record, broad product and technology offering, a clear focus on small to medium displays, commitment to key markets, as well as a truly global manufacturing and support infrastructure.

Please send reader service inquiries to: Jessica He, Optrex America, Inc., 46723 Five Mile Road, Plymouth, MI 48170. Tel: 734-416-8500; Fax: 734-416-8520; E-mail: jhe@optrexusa.com

Related