Capacitive Touchscreen Controller supports thin displays.
Press Release Summary: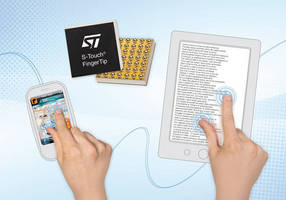 Single-chip S-Touch® FingerTip controller supports unlimited simultaneous touches, multitouch actions such as pinch-to-zoom, and stylus operations. Widescreen capacitive touchscreen controller utilizes noise cancellation to support on-cell LCD technology without requiring ground shielding layer between display and touch sensor. Offered in QFN 56, 7 x 7 mm or flip-chip CSP 49, 3 x 3 mm packages, it offers 8 kV HBM ESD protection as well as auto-tuning and self-calibration.
---
Original Press Release:

STMicroelectronics Unveils True Multi-Touch Technology for Slimmer Smartphones



S-Touch® FingerTip advanced touch controller supports thinner displays and enhances user experience

Geneva - The next generations of smartphones are unlikely to become much smaller, but they could be slimmer and smarter using a single-chip widescreen capacitive touchscreen controller announced by STMicroelectronics (NYSE: STM), a leading provider of ICs for mobile and consumer products.

Complementing ST's leadership in gyroscopes and accelerometers to provide human interface solutions, the S-Touch® FingerTip controller offers true multi-touch capability with unlimited simultaneous touches. The FingerTip also enhances multi-touch actions such as pinch-to-zoom and supports stylus operations, enabling a better user experience.

The FingerTip controller's patented analog IP provides high signal-to-noise-ratio performance with high scan speed that allows robust and fast touch performance for the user. It also offers the industry's greatest number of channels, allowing higher touch resolution. Its ultra-low power consumption delivers longer battery life.

Advanced noise cancellation makes this the first device of its kind to support the latest on-cell LCD technology without requiring a ground shielding layer between the display and the touch sensor. This feature allows smartphones to have thinner touchscreen LCD modules with enhanced image quality and reduced assembly costs.

Its high resistance to electrostatic discharge (ESD) makes the S-Touch FingerTip touch controller ideal for use in consumer smartphones. Auto-tuning and self calibration features will reduce external components and support a wide range of touchscreen panels. With a 3mm x 3mm low-profile chip-size package, the FingerTip is the industry's smallest multi-touch controller.

Main features of S-Touch FingerTip:

On-cell integrated support for thinner displays High SNR Ultra-low-power consumption in touch-ready mode, saving battery life Industry's highest number of nodes: 288 (18 x 16) 8kV HBM ESD protection Industry's smallest package

FingerTip devices are available in two packages, a QFN 56 (7mm x 7mm) and an ultra-small flip-chip CSP 49 (3mm x 3mm) already available for design-ins and mass-production. Budgetary pricing for S-Touch FingerTip is available to OEM customers on request.

About STMicroelectronics

STMicroelectronics is a global leader serving customers across the spectrum of electronics applications with innovative semiconductor solutions. ST aims to be the undisputed leader in multimedia convergence and power applications leveraging its vast array of technologies, design expertise and combination of intellectual property portfolio, strategic partnerships and manufacturing strength. In 2009, the Company's net revenues were $8.51 billion. Further information on ST can be found at www.st.com.

S-Touch is a registered trademark of STMicroelectronics.

More from Computer Hardware & Peripherals