Capacitive Proximity Switches monitor material levels.
Press Release Summary: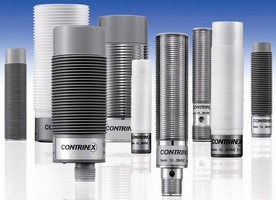 Insensitive to dirt and shock, IP67-rated switches monitor levels of liquids, pastes, and bulk material in machines, installations, and vehicles - even through non-metallic dividing walls. They are available as 4-wire switches in sizes M12, M18, and M30 (PNP or NPN, with changeover outputs), or 2-wire switches (AC/DC, NO) in sizes M18 and M30 as embeddable or non-embeddable versions. Equipped with 20-turn potentiometer, switches allow for adjustment of operating distance.
---
Original Press Release:

New Capacitive Proximity Switches Monitor Liquids, Bulk Materials, and More



Contrinex has introduced its new line of capacitive proximity switches for monitoring the levels of liquids, pastes, and bulk material in machines, installations and vehicles - even through non-metallic dividing walls.

In addition, these capacitive proximity switches are suitable as limit switches, contact-free position switches, for monitoring and positioning, as pulse generators for counting purposes, distance and speed measurement, and much more.

Contrinex capacitive proximity switches are enclosed in PPO or PTFE synthetic housings and 304 stainless-steel or nickel-plated brass metal housings and potted in epoxy resin. They are practically insensitive to dirt and shock and feature IP 67 degree of protection.

They are available as 4-wire switches in sizes M12, M18 and M30 (PNP or NPN, with changeover outputs), 2-wire switches (AC/DC, NO) in sizes M18 and M30, embeddable or non-embeddable versions. Connection is made by a standard 2 m cable or S12 connector. Non-standard cable lengths and types are available on request.

Equipped with a 20-turn potentiometer, these Contrinex switches allow for adjustment of the operating distance, which can be either longer than or shorter than the rated operating distance.

CONTRINEX has manufactured inductive and photoelectric proximity switches since 1972. It specializes exclusively in the development, manufacture and sales of positioning sensors for industrial use. All departments and management levels in the company's management system are ISO 9001:2000 certified.

Complete documentation is available from:
Contrinex, Inc.
2 Business Park Rd.
Old Saybrook, CT 06475
Tel. (860) 388-3573
Toll Free (866) 289-2899
Fax (860) 388-3574
E-mail: info_us@contrinex.com
Internet: www.contrinex.com

More from Packaging Products & Equipment