Capacitance Level Transmitter works in critical conditions.
Press Release Summary: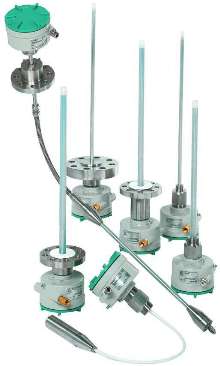 Modular SITRANS(TM) LC500 provides continuous level and interface measurement. Smart, 2-wire transmitter has full-function diagnostics, HART® communications, and electronics design that provides one-step calibration and local display. Transmitter, rated at 420 kHz, is effective in temperatures from -328 to +752°F and pressures from full vacuum to 7,665 psi. Instrument suits extreme conditions characteristic of chemical and hydrocarbon processing industries.
---
Original Press Release:

New High Performance Instrument Measures Continuous Level and Interface in Critical Conditions


Siemens SITRANS(TM) LC500 capacitacne level transmitter is a high performance field instrument that provides reliable continuous level and interface measurement, even in the critical conditions often found in the chemical and hydrocarbon processing industries.

The LC500 instrument has been designed for extreme conditions characteristic of high-pressure coalescers, fractional distillation columns, catalytic crackers, glycol regenerators, heater treaters, gas and oil tankers, F.P.S.O. ships and LNG processing plants.

The smart, two-wire transmitter has HART® communications for remote commissioning and inspection. Its advanced electronics design provides one-step calibration and local display for easy on-site installation and set-up. One-point calibration makes set-up possible without shutting down the production process. Full-function diagnostics comply with NAMUR NE 43 for both local and remote diagnostics, showing all the relevant variables at the same time.

The SITRANS LC500 instrument offers unsurpassed performance in terms of accuracy and long-term stability. The unique inverse-frequency approach to capacitance technology provides high-resolution output. The patented Active-Shield technology protects the measurement from the effects of moisture, vapors, foam, material build-up, and temperature or pressure variations. The 420 kHz transmitter supplies accurate, repeatable readings even in cases of extreme product build-up.

The unique probe design has a high integrity seal, which allows for reliable use in high pressure/high temperature conditions as well as in high pressure/low temperature conditions. The PFA probe-insulating sleeve is chemically resistant. This special insulated probe design prevents "cold flow of plastic" often associated with competitors' devices, ensuring stable measurement without the need for frequent recalibration.

The instrument is effective in temperatures from -200°C to 400°C (-328°F to 752°F) and pressures from full vacuum to 525 bar (7665 psi). An integrated zener safety barrier blocks excess energy from the transmitter to the sensor for intrinsically safe conditions. A 55kV ESD protection feature protects the transmitter from electrostatic discharge. The SITRANS LC500 level transmitter is approved for hazardous conditions, and has Lloyd's Register approval for use in marine applications.

The SITRANS LC500 transmitter offers an auxiliary mA output and a solid-state switch, enabling the instrument to perform the additional function of a level controller when these are connected to a relay that activates a pump. Modular construction features a full range of probe options and process connections, as well as customized configurations, to suit virtually any application.

Headquartered in Alpharetta, Ga., Siemens Energy & Automation manufactures and markets the world's broadest range of electrical and electronic products, systems and services to industrial and construction market customers. Its technologies range from circuit protection and energy management systems to process control, industrial software and totally integrated automation solutions. The company also has expertise in systems integration, technical services and turnkey industrial systems.

Visit us online at http://www.sea.siemens.com/ia

More from Mining, Oil Drilling, Refining Products & Equipment