Canadian Fish Processors Respond to New Temperature Monitoring Regulations with Data Logging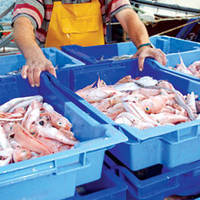 Recently, the Canadian Fish Inspection Regulations have been amended in regards to temperature monitoring during the processing, transportation and storage of fish. Seafood processors in Canada have been required to reevaluate the methods and equipment used to monitor temperatures throughout all processing, cooking, cooling, storage and transportation of fish.



Section 1.8 of the Fish Inspection Regulations published by the Canadian Food Inspection Agency describes the temperature thresholds that must be maintained. For cold storage areas, the fish must maintain a maximum temperature of -18 °C (0 °F), although temperatures as low as -26 °C (-15 °F) are recommended to maintain the integrity of the product.



According to the regulation, the temperature within the refrigeration unit must be read and recorded at least once every 24 hours. Records of all relevant temperature readings must be maintained for a minimum of three years. Previously, this would have been manually performed by a person that would have to physically check the temperature regularly and record the findings on paper, and then maintain those papers for a minimum of three years.



This manual approach is not very reliable or practical and requires a staffing commitment to take measurements, as well as a spatial complication for the storage of paper records for a minimum of three years for each and every process. With the employment of data loggers and the software that stores the temperature records, the process or reliable and consistent temperature monitoring can be streamlined and hassle free.



MadgeTech's HiTemp140 data logger features a low temperature operating environment of -40 °C (-40 °F) and a maximum of 140 °C (284 °F), comfortably spanning beyond the required temperature range set forth by the CFIA. Unlike some other brands of data loggers, the HiTemp140 is rated IP68 meaning it is completely submersible in liquids, expanding its capabilities to also monitor boiling processes. The small, yet rugged food grade stainless steel device has the capacity to store up to 32,700 time and date stamped readings with a user programmable reading rate from one reading per second up to one reading per 24 hours. With dozens of different probe lengths and styles available, the HiTemp140 can be used to monitor any type of seafood at any stage of production.



Once the temperature data has been collected, all readings are downloaded to the MadgeTech Data Logger Software and automatically saved. This greatly simplifies the process of record keeping and puts the information at the user's fingertips to recall and generate a report at any time. Graphs and statistics can be automatically generated and all data can easily be exported to Excel for further analysis. Having electronic records diminishes the need to physically store paper records and provides a greater peace of mind for compliance conscious processors.



For the real time monitoring needs of seafood storage, MadgeTech also offers a series of wireless temperature data loggers that can be used in unison with MadgeTech Cloud Services to give users real time access to readings from any internet enabled device, 24 hours a day, from wherever they are.



More from Packaging Products & Equipment