CAN-Bus Interface Board for PCI and 3 U CompactPCI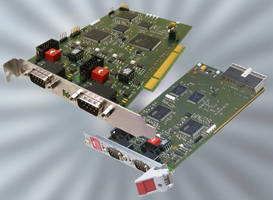 4 active CAN-ports on board

The CAN-bus plays an important role in many fields such as automotive, rail systems, traffic control, drive technology, medical, robotic, general engineering, real-time and simulation. For many of these application environments space is a key factor. Meilhaus Electronic, together with their partner Cosateq GmbH & Co. KG, has developed new PC interfaces to up to four CAN networks in PCI and cPCI formats. The ME-CAN-4 is an active CAN-interface card with two independent controllers on board. It was specially designed for computationally intensive or time-critical applications such as real-time simulation. It can control up to four individual CAN-networks at speeds of up to 1 MBit/s each.

The CAN-channels are galvanically separated in pairs. The boards have optional termination resistors and are available in versions for the standard PCI and the 3 U CompactPCI interfaces. Drivers for Windows, Linux, the real-time environment SCALE-RT, as well as C/C++, LabVIEW and MATLAB/Simulink are included. RAW-CAN and CANopen protocols are supported. The introductory price of either model is 1390.00 Euro.

More from Electronic Components & Devices