Camcorders produce DVD recordings.
Press Release Summary: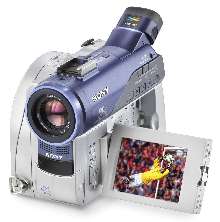 Handycam® Models DCR-DVD100, DCR-DVD200, and DCR-DVD300 record on 3 in. DVD-R and DVD-RW media and also capture JPEG still images in resolutions up to 1152 x 864. Disc-based recording system allows for instant access to scenes and pictures. When recording on DVD-RW disc, users can perform in-camera editing. Super SteadyShot® Picture Stabilization compensates for camera shake, while Worry Free Recording(TM) eliminates frequency vibration.
---
Original Press Release:

Sony Launches Its First DVD Handycam Camcorders


LAS VEGAS (CES, Booth # N109), Jan. 8, 2003 - Sony's new line of DVD Handycam® camcorders, introduced here today, advance the simplicity of making and sharing videos. The three new camcorders produce DVD recordings that play back in most current home and PC DVD players, as well as most later releases of PlayStation®2 game consoles.

As the DVD home player market continues to boom with U.S. household penetration surpassing 40 percent, Sony's new DVD camcorders (the DCR-DVD100, DCR-DVD200 and DCR-DVD300 models) record on 3-inch, DVD-R and DVD-RW media.

"There is a universe of more than 100 million products that can play back Sony's DVD camcorder recordings, making these DVDs one of the most compatible formats available," said Steve Haber, senior vice president of the Digital Imaging Products Division at Sony Electronics. "In addition to their incredible compatibility, DVDs also present one of the easiest ways to shoot, play and share video memories."

These new camcorders also capture JPEG still images for viewing on either your PC or TV. The DCR-DVD100 model captures 640 x 480 images, ideally sized for sharing as e-mail attachments, while the DCR-DVD200 and the DCR-DVD300 models incorporate a one-megapixel imager to produce higher quality video and still image resolution (1152 x 864). All three models can take thousands of still shots at the highest still resolution on a single 3-inch disc.

The disc-based recording system allows for quick access to favorite scenes and pictures without the fuss of rewinding and fast-forwarding. Thumbnail images of video are created from the start of every recorded scene.

Users never have to worry about recording over their irreplaceable memories as the camcorder intuitively only records on empty areas of the disc.

To further enhance the user experience, discs can be titled with customized descriptions, so "Holiday Party" footage is easily distinguishable from "Camping at Yellowstone."

Customize Video with Easy In-Camera Editing
When recording on a DVD-RW disc, users have the flexibility to do some simple in-camera editing. For example, if the last recorded scene didn't turn out perfectly, just erase the last video excerpt and shoot the desired scene in its place. In addition, when in VR (video recording) mode, users can design a playlist of their video clips, and rearrange the order of the scenes and images for a more customized finished product without modifying the video.

Each camcorder has multiple quality recordings options that can extend a disc's capacity to hold up to 60 minutes of video.

Worry-Free Recording(TM) and Connectivity Features

Super SteadyShot® Picture Stabilization - Using motion sensors to compensate for camera shake, this Worry Free Recording feature enhances video and eliminates high frequency vibration without compromising picture quality, meaning virtually no blurred images during shaky camera situations.

InfoLithium® Battery with AccuPower(TM) System - All Sony Handycam camcorders conveniently indicate the remaining minutes of battery life on the LCD or viewfinder display, allowing users to keep an accurate and constant reading of remaining battery power.

USB 2.0 Interface - For users without a DVD drive in their PC, Sony's DVD camcorders have a USB 2.0 interface for uncomplicated video and still data transfer to a compatible PC (Windows® ME/2000 and later operating system) with the supplied USB cable and driver CD-ROM. And as USB 2.0 on the camcorder is backward compatible, it will work seamlessly with the popular USB 1.1 interface as well.

Super NightShot®O Lux/Color Slow Shutter Recording System - This system captures video in total darkness up to 10 feet away by using an advanced infrared system. Super NightShot recording employs an automatic slow-shutter control to deliver brighter, sharper images with more detail when shooting in the dark. Or use the new color mode for recording full-color video in dim light. Color mode helps capture true-to-life color video of sleeping babies, birthday candles and early evening events.
All three models feature a Carl Zeiss® Vario-Sonnar® lens producing more true-to-life color clarity in videos and still images and 10X optical/120X precision digital zoom that brings the action up close. The entry-level DCR-DVD100 model is expected to be available for under $1,000. The DCR-DVD200 unit adds a one-megapixel imager and both models have 2.5-inch SwivelScreen(TM) LCD displays. For those looking for a larger view during recording and playback, the DCR-DVD300 model steps up to a 3.5-inch SwivelScreen LCD display. All three models will be available this summer.

For additional information about Sony products, call (888) 222-SONY, or visit Sony's web site at: sony.com/di.

Contact Info:
Rosemary Flynn
Sony Electronics Inc.
Jenna Skidmore
Burson Marsteller
(858)646-3052

More from Mechanical Power Transmission