CAM Software supports EDM machines with rotary axes.
Press Release Summary: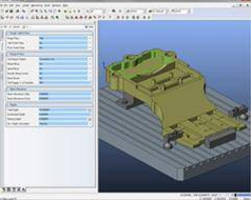 Optimized to embrace capabilities of multi-core computers, ESPRIT® 2010 includes FreeForm 3- and 5-axis machining cycles for milling, mill-turn, and Swiss-turn machine tools. Multi-threaded stock automation engine enables customers to instantly start part program simulation at any time and at any point in program. With feature recognition function, program automatically recognizes pockets with any combination of open and closed walls, fillets, chamfers, and tapered walls.
---
Original Press Release:

ESPRIT 2010 CAM Software Now Shipping



Computer-aided manufacturing (CAM) industry leader DP Technology is pleased to announce that ESPRIT® 2010, the production release of the latest version of its ESPRIT flagship product, is now shipping.

New developments within this latest version of ESPRIT place great emphasis on providing existing ESPRIT customers with additional tools that will increase their productivity.

"We believe that concentrating on serving the needs of our existing customers is the best investment we can make," says Chuck Mathews, DP's vice president and director of product development. "With the 2010 release of ESPRIT, more than ever before, we are utilizing the latest computer technology to solve the practical real-world challenges our customers face on a daily basis."

ESPRIT 2010 has been optimized to fully embrace the capabilities of the latest multi-core computers, an especially valued time-saving characteristic for 3-axis and 5-axis programming. ESPRIT 2010 runs on Microsoft® Windows® XP, Windows® Vista(TM) and Windows® 7(TM) operating systems.

Improvements That Every Customer Will Enjoy

Every ESPRIT customer will enjoy the benefits of an all new, faster-to-use, graphical user interface (GUI) used to define machining operations throughout ESPRIT. This new tree-style GUI is used to define machining parameters used for cutting parts in milling, turning and wire EDM programming. Using the new GUI, cutting parameters are entered and immediately validated for the given workpiece. The GUI also adapts to display only questions pertinent to the given cutting environment, minimizing the number of choices the programmer needs to consider. The new tree-style GUI uses a small portion of the screen, providing the programmer with a clear, unobstructed view of the workpiece at all times. This new GUI is designed to look familiar to existing ESPRIT customers, allowing them to easily transition to and gain the productivity benefits of ESPRIT 2010.

Thanks to the new multi-threaded stock automation engine in ESPRIT 2010, customers can now benefit from instantly starting the part program simulation at any time and at any point in the program. This new feature eliminates the need to simulate all operations from the beginning or to save the results of previous simulations. Now ESPRIT customers can start a simulation with the stock that results from the completion of all previous operations without first waiting for the simulation of the previous operation. The use of multi-threading technology - with which stock calculations are done in the background, which doesn't slow the programmer down - makes this ideal scenario a reality in ESPRIT 2010.

Machining pockets has just become significantly easier with ESPRIT 2010 due to advancements in feature recognition. The upgraded advanced feature recognition now automatically recognizes pockets with any combination of open and closed walls, fillets, chamfers and tapered walls. In addition, undercut areas that can't be reached with the given tooling are automatically excluded. These new pocket features may also be based on native CAD features, resulting in the features in ESPRIT being associative with the original CAD model. As a result, if the CAD model changes, the user is notified and can choose whether to automatically update the ESPRIT feature and its associated machining to match the CAD model. This association is maintained from the CAD model to the finished toolpath.

Support for the Latest CNC Machine Tools

ESPRIT 2010 offers dramatic improvements in the support of integrated multi-tasking, mill-turn machine tools. All ESPRIT milling and turning machining capability, from 2-axis turning to 5-axis milling, is available for any type of mill-turn machine tool, including lathes that perform milling, mills that perform turning, Swiss-style machines and other "integrated mill-turn machining centers." In the 2010 release, support for these multi-tasking machine tools has been enhanced through increased flexibility in cutting tool configurations and orientations, enabling the support of a wide variety of machines. The newly added support for additional rotary axes, three or more, allows the ESPRIT customer to completely program and easily simulate the most complex and sophisticated machine tools currently available on the market.

For the ESPRIT wire-EDM customer, the 2010 version includes support for EDM machines with rotary axes. This allows EDM programmers to perform wire-EDM cutting in 5- and 6-axis using turn-and-burn (indexing the rotary table), and turn-while-burn full 5-axis simultaneous cutting with a rotary table. This new version also provides EDM programming with an innovative new 4-axis pocketing, no-core cutting, machining cycle.

New 3D Machining Techniques

ESPRIT 2010 includes 13 new FreeForm 3- and 5-axis machining cycles that are available for milling, mill-turn and Swiss-turn machine tools. These high-speed, multi-axis machining cycles offer a wide variety of new choices and capabilities for ESPRIT customers who are performing 3D machining. Additions for 3-axis include a new roughing cycle that can also be used for rest-machining, seven new finishing cycles and three specialized cycles - 3D contouring, pencil tracing and corner machining. Two new specialized 5-axis machining cycles are also included within this release, swarf machining and impeller machining. All of these machining cycles, which add up to a tremendous amount of new technology, will be provided to existing ESPRIT FreeForm customers as part of their ESPRIT software maintenance contract (SMC).

Availability

ESPRIT 2010 is now shipping to existing ESPRIT customers with active software maintenance contracts (SMC). We expect that all North American customers will receive their updates before the end of 2009. International SMC updates are starting in December and will continue into the first quarter of 2010. ESPRIT 2010 is also available now to new ESPRIT customers.

Copyright © 1985-2009 DP Technology Corp. All rights reserved.

U.S. Patent No. 6,907,313. Other US patents pending.

More from Electrical Equipment & Systems