CAM Software builds tool paths directly from CAD files.
Press Release Summary: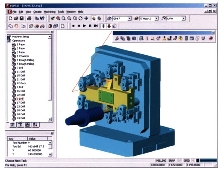 ESPRIT 2002 Plus has 65 enhancements and is available in 13 different languages, including French, German, Japanese, and Chinese. It has improved 4/5-axis support for 3D milling, C/Y-axis turning, EDM 4-axis tapering, and tool-path simulation and verification. Data exchange support allows it to read and perform machining directly from Inventor, Solid Edge, SolidWorks, CATIA, Unigraphics, and Pro/Engineer solid, surface, or wire-frame models.
---
Original Press Release:

ESPRIT 2002 Plus Now Available


CAM Software Features Enhanced 4/5-axis Support for 3D Milling, Improved C/Y-axis Turning, Upgraded EDM 4-axis Tapering, Expanded Tool Path Simulation and Verification, and New Data Exchange Support

Camarillo, CA- CAM market leader, DP Technology, announces the immediate availability of ESPRIT 2002 Plus, the latest release of its flagship CAM software product. ESPRIT 2002 Plus features a total of 65 new enhancements and is immediately available in 13 different languages, including French, German, Japanese, and Chinese.

ESPRIT 2002 Plus represents a powerful CAM software solution that includes the SolidMill, SolidTurn, and SolidWire products for high performance machining of solid, surface or wire frame part geometry. ESPRIT's KnowledgeBase Engine(TM) captures key practices and rules, organizing cutting tools, machining cycles and technology, and part features to create optimized work plans that enhance part quality and programming efficiency. ESPRIT offers all the functionality in this new release within the comfortable and familiar 100% native Windows® interface that maximizes usability and productivity.

"Using the ESPRIT 2002 product line, customers- a complex electronics enclosure manufacturer, for example- have documented productivity gains of as much as eight fold, met tight deadlines that entail completing 80% of their jobs within 24 hours, and reduced EDM programming time from 2 hours to 15 minutes. With the latest enhancements included in ESPRIT 2002 Plus, these numbers can only improve and these productivity levels are now attainable by a much larger audience," says Chuck Mathews, DP Technology Vice President.

ESPRIT SolidMill
ESPRIT 2002 Plus SolidMill, CAM for 2 - 5 axis milling, includes over one dozen enhancements in the areas of 3D FreeForm milling, improved rough cutting cycles, and 5-axis positioning. ESPRIT now supports 3D FreeForm machining in combination with 5-axis indexing, allowing the NC programmer to orient a part in 5-axis to obtain the optimum positions for subsequent 3-axis / 3D FreeForm Surface machining operations. This feature also reduces the number of set-ups required to machine a part requiring 3D machining on multiple sides.

For example, when machining an internal combustion engine head, the NC programmer can utilize one orientation for the combustion chamber, then position in 5-axis to a second orientation for machining of the intake port, employ a third orientation for the exhaust port, and establish a fourth orientation for the top side; thus 3D machining is performed on multiple sides of the same part within a single set-up.

ESPRIT SolidTurn
ESPRIT 2002 Plus SolidTurn, CAM for 2 - 22 axis turning, offers improvements in 16 different areas. ESPRIT now provides extended support for "C" and "Y"-axis milling operations performed on a lathe. Utilizing live milling tools, traditional milling cutting cycles such as contouring, pocketing, and drilling can now be programmed with any combination of turning cycles in any order to completely machine a part in a single set-up.

ESPRIT 2002 Plus features an upgraded, easier to use Sync List for multi turret/multi spindle machine tools that displays each operation, organized by head, turret, or spindle. The Sync List now provides a timing chart to view individual and total cycle times, along with the comprehensive control for synchronized and synchronous cutting operations needed to minimize cycle times.

ESPRIT SolidWire
ESPRIT 2002 Plus SolidWire, CAM for 2 - 5 axis wire-EDM, features 15 areas of advancements including upgraded machine-specific technology for Agie, Charmilles, Fanuc, Mitsubishi, ONA, and Sodick, among others. For parts with complex tapers, ESPRIT 2002 Plus now displays Sync Lines to help the user visualize the final shape- a feature particularly useful with the complex geometry common to aerospace and electronic parts. ESPRIT 2002 Plus offers new associativity for "Advanced Conics" programming by maintaining machining instructions for inserting taper and other cutting condition changes within the cutting profile even if the tool path is rebuilt.

CT-Expert, the Charmilles Technologies database of recommended cutting conditions, is now integrated into this new version of ESPRIT and is available as an option.

Expanded Tool Path Simulation Maximizes Latest Enhancements
ESPRIT 2002 Plus provides expanded tool path simulation capabilities to maximize the enhanced functionality offered in the latest release. ESPRIT promotes confidence by simulating the machine tool, fixtures, stock, and work piece in 3D, dynamic solids. Users can dynamically pan, zoom, and rotate the work piece at any stage, inspecting the "as machined" part versus the "as designed" version.

Specific improvements in this latest release include improved W-vector orientation for optimum rotation of 3D milling parts, new Y-axis simulation for Swiss-style turning machines, and enhanced simulation of EDM 4-axis tapering operations.

Data Exchange Upgraded
ESPRIT 2002 Plus directly reads-native CAD model files from Inventor, Solid Edge, and SolidWorks, thus enabling ESPRIT to read and build tool path directly from solid models created in these Mechanical Design systems. ESPRIT 2002 Plus also reads and performs machining directly on native CATIA, Unigraphics (Parasolid x_t format), Pro/Engineer (STEP format) solid, surface or wireframe part models.

SMC value
ESPRIT 2002 Plus is shipped free of charge to all Software Maintenance Contract (SMC) subscribers as part of the regular software updates included in their agreement. North American customers will also receive the new English language Getting Started manual which provides detailed overviews of the new capabilities available in this release.

About DP Technology and ESPRIT
DP Technology is a CAM (Computer Aided Manufacturing) software market leader with a mission to provide CNC programmers with the most powerful CAM software ever. The company's vision of technology's potential and passion for excellence is captured in its flagship product ESPRIT.

DP Technology maintains it's worldwide headquarters and product development teams in Camarillo, California along with sales and support operations in Europe, Asia, and North and South America. For additional information about DP Technology and ESPRIT, call +1-805-388-6000, email DP at esprit@dptechnology.com, or visit them on the World Wide Web at www.dptechnology.com.


More from Electrical Equipment & Systems