Calypso Foil Lidding with 50% greater puncture strength.
Press Release Summary: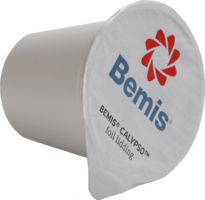 Providing solutions to applications that use heavy gauge foil lidding, Calypso Foil Lidding can be used to lid edible, non-edible and medical products. Product is no-tear, no-shred and easily peels in one piece and is puncture proof. Lid has soft edges that will not cut through skin of consumer when handling.
---
Original Press Release:
Bemis Launches Calypso™, a New Innovation Platform for Improved Foil Lidding
Bemis Company, Inc. recently launched Calypso™, a new innovation platform for improved foil lidding. Bemis® Calypso™ lidding is a universal structure that solves a number of consumer and manufacturer issues related to traditional die cut foil lidding.
Consumer frustration caused by lids that tear, puncture and cut, puts brands at risk. Calypso™ lidding helps consumers get to the good stuff inside faster and easier:
·        The new lidding peels easily in a single piece. The no-tear, no-shred solution has more than two times the tear strength of traditional foil lidding.
·        Calypso™ lidding helps to prevent punctures that occur in retail and home environments. By keeping products safe, damage and waste are reduced. Calypso™ lidding has more than 50% greater puncture strength compared to traditional foil lidding.
·        It is also softer and safer, with edges that won't cut, reducing consumer complaints and improving the safety of manufacturing workers.
While using significantly less foil than a traditional die cut lid, this multilayered structure drastically improves performance without compromising quality or increasing costs. Sustainability improvements include lowering CO2 by 35% and energy by 10% when compared to traditional foil lidding.
Calypso™ foil lidding is a solution for many applications currently using heavy gauge foil lidding, including yogurt and additional cultured dairy products, as well as other food, nonfood and medical products. Its universal structure can adhere to most cupstock, run on existing equipment and maintain line speeds. To discuss how Calypso™ lidding can benefit your products, contact Bemis at calypso@bemis.comor learn more at bemis.com/calypso.
ABOUT BEMIS IN NORTH AMERICA
Bemis works collaboratively with forward-thinking customers to deliver inspired food and consumer packaging that enables customer success. Bemis is committed to high quality execution and technical support that provides peace of mind to our customers. Bemis in North America is part of Bemis Company, Inc., a global packaging company with 61 facilities and 18,000 employees worldwide. With a presence across the Americas, Europe, and Asia, Bemis offers scope and expertise that helps our customers succeed. More information is available at www.bemis.com.
For additional information, please contact:
Marketing Communications
BNAMarCom@bemis.com
Bemis in North America
P.O. Box 2968
Oshkosh, WI 54904
More from Fluid & Gas Flow Equipment