Callbecks Home Hardware Building Centre New Dealer for RailEasy Stainless Steel Railing System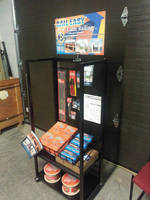 Stainless Steel Direct is proud to announce that effective June 1st, 2013 that Callbecks Home Hardware is a dealer located in Summerside, Prince Edward Island for the RailEasy Stainless Steel Cable Railing System.  In August of 2007, Ron and Donna MacDonald became the sole owners of Callbeck's Home Hardware continuing on with the family owned and operated heritage. Ron has worked in the business for over 40 years, and currently has 3 children involved in the business who will hopefully carry on the tradition for another 100 years. In January 2012, Ron and Donna moved their Home Furniture franchise to a newly-built facility located at 205 Wyatt Crescent (adjacent to Callbeck's Home Hardware).



The RailEasy Cable Railing Kit from Stainless Steel Direct uses the patented "RailEasy™" turnbuckles for easy installation and adjustment. Enjoy the maintenance-free quality of stainless steel cable railings with no special assembly skills or tools. The RailEasy Cable Railing Kit is ideal for an infill option on interior or exterior railing applications where you have existing or new wood posts.



The RailEasy Cable Railing Kit is made from 316 Marine Grade Stainless Steel has easy to use hardware such as the "RailEasy" Stainless Steel Turnbuckle which makes quick work of installing our 5/32 stainless steel cable railing. Stainless Steel Cable Railing can be installed both horizontally and vertically and can be used in a wide variety of both residential and commercial projects.



If you have any questions regarding the RailEasy Cable Railing Kit please give the distributor a call at 1-800-981-3590. If you have a local Home Hardware, Castle Building Centre or Timber Mart dealer ask them for details on ordering the RailEasy for convenient pick up at their store.



More from Communication Systems & Equipment