Caliper Brake is capable of high cyclic duty.
Press Release Summary: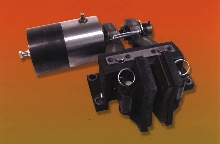 Spring applied and hydraulically released, Model BD caliper and its compact actuator can be mounted on either side of brake for emergency stopping and/or holding applications. Brake shoes mount with detent pins for quick friction-facing replacement and all pivot pins have life-lubricated pivot-point bearings. Brake is suitable for rapid start/stop applications. Simple design with few seals and moving parts make installation and maintenance easy.
---
Original Press Release:
Nexen Expands Caliper Brake Line

(Vadnais Heights, Minn. - March 13, 2000) Nexen Group, Inc., today announced the expansion of their Air Champ(R) Product Line with the BD Model Caliper Brake. Customers can now take advantage of a high performing brake at an affordable cost for their emergency stopping and/or holding applications.

Nexen's BD Caliper Brake is spring applied and its compact actuator is hydraulically released, with mounting capabilities on either side of the brake. Capable of high cyclic duty, this BD Caliper Brake is ideal for rapid start/stop applications. Its simple design with very few seals and moving parts make installation and maintenance easy. The brake shoes mount with detent pins for quick friction facing replacement and all pivot pins have life-lubricated pivot-point bearings. The BD brake has proven itself by its low-cost and high performance in several types of applications and industries such as sawmill, steel mill, bulk material conveyor, automotive production, wind turbine, amusement parks, ski lifts, pulp and paper, wire rolling/drawing and textile.

Nexen is a leading manufacturer of brakes, clutches, servo motor and linear motion brakes, torque limiters, overload protection devices, and web tension control systems for a variety of industrial applications ranging from motion control and robotics to packaging and material handling. With headquarters in Vadnais Heights, Minn., Nexen has more than 40 worldwide sales offices and more than 1,500 worldwide distributor sales outlets. For more information on the Nexen Air Champ product line, contact:

Bobbi J. Jensen

Marketing Communications

560 Oak Grove Parkway

Vadnais Heights, MN 55127

651/286-1054


Description Nexen Group, Inc., formerly known as Horton Industrial Products, is a leading manufacturer of industrial clutches, brakes, torque limiters and motion control products. Nexen also produces tension control products for continuous web operations such as in the paper industry and other converting processes.

History

A privately held company, Nexen traces its origins to 1902 when a firm called Horton was founded. In 1951, Hugh Schilling, Sr. and three investors purchased the company and named it Horton Inc. Over the years, the company evolved into two distinct product lines - industrial products (including motion control and web control systems) and diesel vehicle components. In January 1999, Horton split into two separate companies. Hugh (Hutch) K. Schilling, Jr., who was president of Horton Inc., acquired the industrial products business. The headquarters for this business moved from Minneapolis to Vadnais Heights and was renamed Nexen Group in June 1999.

Products/Services

The Nexen Group is a leading manufacturer of brakes, clutches, torque limiters, overload protection devices and control systems for a variety of industrial applications ranging from packing equipment to sawmills and automobile conveyor systems. The Air Champ(R) line of clutches and brakes is the industry standard for rotary motion control and power transmission. The company's extensive distribution network serves markets throughout the world with a product line of more than 2,500 components and systems for stop-start, disconnect and overload protection.

Nexen also offers systems for guiding and tension control of roll material moving through a web production machine. Nexen web control systems ensure even flow of material and close-tolerance registration with maximum throughput. Applications range from printing of paper and cardboard for food and other packaging to the production of flexible circuit assemblies applied to polymer films. The company recently introduced Eclipse(TM), a new line of products for the rapidly growing motion control industry.

Employees/Sales/ Distribution

Nexen Group has 150 employees at its headquarters location in Vadnais Heights, Minn., and at its manufacturing facility in Webster, Wis. The company also has more 40 worldwide sales offices and more than 1,500 worldwide distributor sales outlets. The company has 120 U.S. and international patents.

For more information on Nexen and its products, visit us at www.nexengroup.com, or contact:

Scott Carson

Director, Marketing and Communications

560 Oak Grove Parkway

Vadnais Heights, MN 55127

651/286-1008

scarson@nexengroup.com
More from Mechanical Power Transmission