Cadaver Lift Series come with single scissor frame.
Press Release Summary: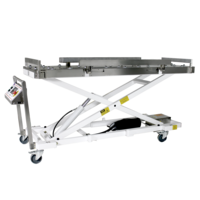 Cadaver Lift Series are equipped with a removable side handle and stainless steel accents. Units come with powder coat finishing and feature dual seal maintenance free battery. These 5-tiered products are integrated with adjustable top which is compatible with trays and racks. Lifts can elevate over 750 lbs using hydraulic system and come with key activation option. Cadaver is incorporated with scale system which offers solid measurement using four load cells, summing board and weight indicator.
---
Original Press Release:
Mopec Creates Cadaver Lifts with Adaptable and Clear Design that Exceeds Industry Standard
Mopec introduces new cadaver lift series that feature more versatility in design and performance. Created with the consumer in mind, each lift has an adjustable top with a simple structure, achieving a Mopec standard in efficiency. An enhanced mechanical system offers advanced technological features that surpass all lifts in its industry.
With a single scissor frame, the series offers a more durable structure that provides a safe and balanced load. This innovative design features a removable side handle that can be placed on either side for steadier control and maneuverability. Each lift comes in a powder coated finish with stainless steel accents for easy maintenance.
The adjustable tops are compatible with a wide range of trays and racks, making it favorable for extended use. For added convenience each lift modifies to varying widths, that can accommodate and support all standard size body trays. All split roller tops have end loading access, while the roller ball lift is suitable for both end and side loading.
A dual sealed deep cycle maintenance free battery supplies power to the control console. With key activation, the lift can power on or off and elevate over 750lbs using the robust hydraulic system.
A scale system is integrated on our 5-tiered lifts, providing a solid measurement using four load cells, summing board and weight indicator.
ABOUT MOPEC
Mopec provides American-made equipment and laboratory products to the pathology, histology, necropsy, autopsy and mortuary industries. Founded in 1992, Mopec solutions are among the very best as demonstrated by the vast number of installations in America's top healthcare institutions and facilities. The company's reputation, which continues to grow worldwide, is built on decades of superior customer service specializing in consultation and customization. For more information visit www.mopec.com
More from Materials