CAD Translation Software offers repair, reverse engineering tools.
Press Release Summary: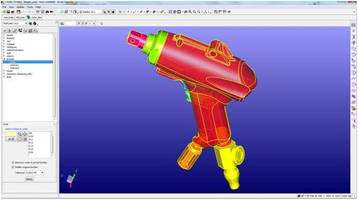 Used for CAD model translation, repair, and simplification, CADfix v10 addresses problems of 3D model data exchange and re-use between different engineering applications. Users can import CAD models then repair and adapt them before export to most suitable format for re-use in downstream system. In addition to CAD to CAD and CAD to CAE tools, solution offers features for Additive Manufacturing (AM) and 3D Printing and helps with reverse engineering faceted models into usable CAD geometry.
---
Original Press Release:

ITI TranscenData Releases CADfix Version 10



The latest version of the world's leading 3D CAD healing and repair software is now available



Milford, OH — ITI TranscenData announces the release of CADfix 10, the latest version of the leading CAD model translation, repair and simplification software. CADfix tackles the ever present problems of 3D model data exchange and re-use between different engineering applications. CADfix allows the user to import CAD models and efficiently repair and adapt them, before exporting to the most suitable format for re-use in the downstream system - eliminating expensive CAD model rework.



CADfix 10 includes a roll up of recent Service Pack functionality such as improved hole and feature removal, PMI import and viewing, lofted surface creation, and specialist fillet removal tools. New geometry processing tools in CADfix 10 include Boolean functions to unite, subtract and intersect model components, and the ability to create fillets and chamfers. The model simplification and detail removal tools have been extended with new functions targeted at collaboration and plant design integration applications. The CADfix 10 interfaces have also been updated to support newer CAD system versions and industry standard formats.



CADfix solid modelling Boolean capabilities:  unite, subtract, intersect.  Easily change the form of the model to what is desired.



In addition to strengthening the existing array of CAD to CAD and CAD to CAE tools, the CADfix functionality now extends into the area of Additive Manufacturing (AM) and 3D Printing, with new capabilities including:



• Ability to define build-boxes for different 3D printing machines and then import, scale and layout components

• Ability to generate highly accurate 2D slices of CAD models for export to print machines

• Visualization and analysis of 2D slices to determine potential manufacturing issues

• Import a point cloud from a part scan, align the point cloud with the CAD model, tessellate and compare



"CADfix has been delivering high end geometry processing solutions for design and engineering analysis for many years and we are now seeing a wide range of requirements from the rapidly evolving AM and 3D printing community.", said Andy Chinn, CADfix Business Development Manager, "Through working closely with manufacturing companies we have been able to clearly identify areas where novel geometry processing technology is required, and that could have a significant impact on future AM processes. CADfix 10 sees the first release of our new CADfix AM tools and we look forward to future product innovations in this area."



CADfix 10 also helps with the tricky task of reverse engineering faceted models such as STL into usable CAD geometry. New CADfix tools enable users to import a faceted model, automatically split it into regular regions for conversion into CAD surface geometry, and then export to CAD for design and analysis purposes.



A hot topic in the CAE community is the ability to morph an original CAD model to match a deformed mesh from CAE simulation. Here too, new advanced functionality in CADfix 10 allows engineers to import a deformed mesh, match it to the original CAD geometry, and then morph the CAD model to match the displaced shape.



"We are excited to be working with our customers in new and challenging application areas using the advanced capabilities released in CADfix 10," added Chinn, "We have also added more conferences to our 2015 calendar, such as AERO2015, NAFEMS, PI Congress and RAPID, in order to promote this technology. Such events are a great opportunity to meet with new customers and discuss how we can help solve their interoperability issues."



See more about what's new in CADfix 10, during a live 30 minute webinar!

Wednesday, March 4th, 10AM EST



About ITI and ITI TranscenData

International TechneGroup Incorporated (ITI) was founded in 1983 and is headquartered in Milford, OH. ITI TranscenData is the product data interoperability business within ITI. CAD/CAM/CAE/PLM vendors and end users alike utilize ITI TranscenData's products and services for seamless data exchange between dissimilar systems. Customers include ABB, Airbus, BAE Systems, Boeing, Dassault, EADS, Ford, Honeywell, Lego, Lockheed Martin, NASA, MAHLE Powertrain, Pratt & Whitney, Raytheon, Renault, Rockwell Collins, Samsung Electronics, Siemens, Snecma, Spirit AeroSystems, Thales, ThyssenKrupp, US Air Force, US Army, Xerox and others.



For more information about ITI TranscenData's products and services, visit www.transcendata.com email: info@transcendata.com, or call 1-888-783-9199 x3858

More from Communication Systems & Equipment