CAD/CAM Software facilitates engraving and routing.
Press Release Summary: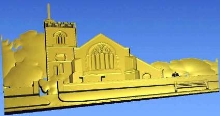 With tools for 2D drawing, 3D modeling, and machining, ArtCAM Pro 8 facilitates design and manufacture of artistic shapes. Contrast slide bar control for 2D bitmap helps create clear view of vectors being drawn. Taper Relief command enables user to pick point on model and taper it down by defined percentage, while Mirror and Merge command aids in creation of symmetrical models. Machining tool allows user to view areas cut by individual toolpaths in different colors.
---
Original Press Release:

Delcam Makes Engraving and Routing Software Easier and More Flexible


The latest version of Delcam's ArtCAM Pro engraving and routing software incorporates a range of enhancements in 2D drawing, 3D modelling and machining to make the design and manufacturing of artistic shapes both easier and more flexible. With these improvements, ArtCAM 8 is certain to consolidate the software's position as the leading system for the engraving, signmaking and woodworking industries.

Unlike conventional CADCAM systems, which tend to require knowledge of engineering and mathematical principles, ArtCAM is a more artistic application, which makes extensive use of colour in developing designs. This approach makes it very easy to produce sophisticated designs, even for people that are not usually strong in technical subjects. It enables people with creative flair, such as artists, designers and engravers, to increase their productivity and raise quality by using computerised manufacturing techniques, alongside their traditional skills.

2D Drawing & Layout
One new option that will improve ease of sketching is a contrast slide bar control for the 2D bitmap view. This can be used to fade out the 2D view so giving a clearer view of the vectors being drawn. It will be especially useful when creating vectors from poor quality original artwork. In addition, greater zoom capabilities have been added for users doing especially fine work

Of particular interest to companies that produce larger items, such as furniture manufacturers, will be the changes to ArtCAM's nesting. Rather than nesting onto multiple layers, ArtCAM creates separate sheets within the model to hold the nested items. This approach provides a clearer way of handling data as well as being more efficient when moving to machining. Sheets can be displayed individually or in a group with the active sheet highlighted.

3D Modelling
Two new commands have been added to give extra modelling options - Taper Relief, and Mirror and Merge Relief. The first gives the ability to pick a point on an ArtCAM model and taper it down by a defined percentage, either over a certain distance, between two vectors, or radially from the centre to the edge of a vector. This will be useful when introducing perspective into scenes and will also allow easier merging of two reliefs whose combined heights would be too great for the design. The Mirror and Merge command will make it quicker and easier to create symmetrical models.

Other improvements include a larger sculpting tool to give greater control and coverage and the ability to "undo" edits to the model. This allows mistakes to be corrected even once you have carried out a number of subsequent changes to the ArtCAM relief. It also makes it easier to experiment with new ideas, without risking the loss of work already completed on the design.

Machining
The main change to the machining in ArtCAM 8 is the ability to view the areas cut by individual toolpaths in different colours. This shows clearly where each toolpath will machine and so makes it easier to identify areas that would be left un-machined and would require a smaller tool or different strategy.

The second significant change is in toolpath ordering. It has been made simpler to change the order in which toolpaths are applied and so easier to ensure the most efficient sequence can be developed.

For further information on ArtCAM Pro, please contact:-
Peter Dickin, Public Relations Manager
Direct Phone: +44 121 683 1081 e-mail: pjd@delcam.com

More from Software