CAD/CAM Software creates tool path from models.
Press Release Summary: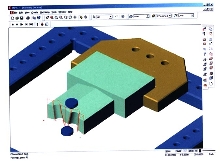 ESPRIT/W to ESPRIT 2002 upgrade includes automatic feature recognition technology for EDM, plus ability to create EDM tool path directly from 3D solid and surface models. EDM tool groups similar features, enabling programmer to create rough and skim cutting operations in one step. It seamlessly imports 3-D solid modeling files from Pro/Engineer, Unigraphics, CATIA, Autodesk, SolidWorks, and Solid Edge CAD systems, and creates toolpath directly from models.
---
Original Press Release:
ESPRIT/W to ESPRIT 2002 Upgrade Now Available

ESPRIT/W users with an active Software Maintenance Contract (SMC) receive free upgrade to ESPRIT 2002

Camarillo, CA- CAM market leader, DP Technology announces the immediate availability of an ESPRIT/W to ESPRIT 2002 upgrade. ESPRIT/W users with an active Software Maintenance Contract (SMC) are eligible to receive a free upgrade to ESPRIT 2002 as part of the software updates included in their SMC agreement. In addition to the EDM functionality offered in ESPIRT/W, ESPRIT 2002 includes advanced KnowledgeBase and Automatic Feature Recognition technology for EDM, plus the ability to create EDM tool path directly from 3D Solid and Surface Models. Along with this free upgrade, ESPRIT/W customers have the option of adding ESPRIT 2002 turning and milling functionality to their software licenses. SMC subscribers are also eligible to sign up for special reduced price ESPRIT 2002 training and receive formal training from qualified ESPRIT technicians to learn how to maximize the benefit they receive from the new features in the latest CAM release.

Seamless Solid-based CAD/CAM Integration Reduces NC Programming Time

ESPRIT 2002 seamlessly imports files from the leading CAD solutions- Pro/Engineer from PTC, Unigraphics from EDS/PLM, and CATIA from Dassault- which all provide extensive support for 3-D solid modeling. In addition, this latest release features full support for the mainstream Windows(R) based 3-D solids CAD systems, including Inventor from Autodesk, SolidWorks, and Solid Edge. ESPRIT 2002 flawlessly imports solid models from all the previously mentioned CAD systems, frilly intact (as designed), and creates toolpath directly from these solid models.

Utilizing ESPRIT's ability to directly handle solid models, users can easily visualize and understand even the most complex part geometry. For example, a solid model shows the shadows and light reflections necessary to easily discern whether there is a pocket or a protrusion. Furthermore, ESPRIT users have the advantage of being able to machine directly from solid models that don't have the duplicate entities and gaps commonly found in 2-D geometry. "I import the solid CAD file directly into our ESPRIT CAM system. The CAM system brings in the solid geometry with no translation needed and automatically creates toolpaths from the solid model, reducing time and simplifying the overall programming process" says Tony Corn, CNC Programmer at Alliance Carolina Tool & Mold.

KnowledgeBase Delivers Highly Efficient EDM Programming

The ESPRIT 2002 KnowledgeBase includes a specialized Automatic EDM Feature Recognition Tool, greatly reducing programming time for EDM parts. This new tool eliminates the manual geometry selection process by automatically recognizing wire thread locations, start point, and cutting profiles-such as Punches and Dies. The Automatic EDM Feature Recognition Tool systematically groups similar features together, enabling the programmer to create all the rough and skim cutting operations in one simple step and optimize the G-code. For example, with this tool, shops can utilize one program to perform roughing operations during the day and skimming operations at night. ESPRIT 2002 includes complete tool sets for all the wire EDM machines found in ESPRIT/W, plus additional support for the new AgieVision, Charmilles- Millennium, and Charmilles- Fanuc. ESPRIT's KnowledgeBase provides input screens specific to each machine model, ensuring that machining of parts is performed utilizing the full range of an EDM machine's capability while maximizing the machine's performance. For example, Coming Cable Systems utilizes ESPRIT's KB for AgieVision which not only has technology that exactly matches the specs for the Agie, but also enables Coming to change the part radius or height simply by entering a new value into the ESPRIT input screen.

Single-Source CAM for Wire, Mill, and Lathe

ESPRIT 2002 offers full support for up to 22-axis turning, 5-axis milling, and free form multi-surface 3-axis machining. Shops can now utilize one CAM system to program their CNC wire EDMs, mills, and lathes, drastically simplifying the NC programming required for multiple CNC operations common to shops providing end-to-end services.

For example, WC Machine & Tool relies on ESPRIT to enable the company to provide its "one stop shop" services that include custom machining and manufacturing, and prototyping. WC utilizes ESPRIT to program intricate, high-tolerance production parts that are manufactured on both its CNC machining centers- Fadal, Okuma, and Bridgeport, among others-and various Mitsubishi wire EDM machines.

CT-Expert Now Available in ESPRIT for Charmilles' wire-EDMs

In addition, ESPRIT 2002 contains an integrated version of CT Expert, Charmilles Technologies expert system, that automates the selection of the cutting technology for Charmilles Wire EDM machines. ESPRIT 2002 provides Charmilles' users with a quick and accurate transfer of cutting technology data from CT-Expert to ESPRIT. Charmilles' programmers can now use a single integrated set of software to manage the entire cutting process, quickly and easily utilizing a built-in CT-Expert database that contains the full range of Charmilles cutting conditions. CT-Expert is provided as a new option to the ESPRIT 2002 SolidWire product line.

About DP Technology and ESPRIT
DP Technology is a company founded on the vision of technology's potential. For two decades DP Technology has set the pace in the machine tool industry with the practical application of advanced technologies for the benefit of the CNC programmer. DP Technology re-invests over 20% of its annual revenue into Research and Development in an effort to assure ESPRIT's continuing leadership as the world's leading CAM product. For additional information about DP Technology and ESPRIT, please call 805-388-6000, email DP at esprit@dptechnology.com, or visit them on the World Wide Web at www.dptechnology.com

More from Electrical Equipment & Systems