CAD/CAM Programming and Nesting Software streamlines workflow.
Press Release Summary: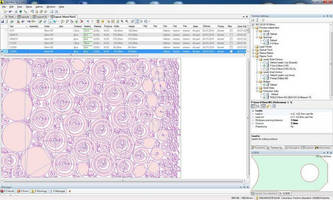 Optimized for plasma, oxy-fuel, laser, and waterjet cutting, Columbus III™ v1.2 delivers features that facilitate programming while improving efficiency, material utilization, and productivity. Standard shape library offers pre-defined part geometries, and parts can be imported from existing assembly without requiring customized import filters. Along with automatic remnant cut geometry optimization, features include optimized cutting technologies via 3 bridge configurations.
---
Original Press Release:

ESAB Releases New Version of Columbus III CAD/CAM Programming & Nesting Software



Florence, SC – ESAB Welding & Cutting Products announces the release of Columbus III™ version 1.2, a powerful CAD/CAM programming and nesting software optimized for plasma, oxy-fuel, laser and waterjet cutting. This latest version of Columbus III offers many new features and updates to make programming easier and more efficient, improve material utilization, increase productivity, and streamline workflow.



The new release provides improved CAD functionality with a standard shape library that makes it easier and faster to create part programs using an extensive collection of pre-defined part geometries.



Columbus III version 1.2 enables parts to be imported from an existing assembly without the need for customized import filters, providing more efficient data exchange from Columbus to ERP, better production control and easier integration. The integration into complex ERP systems is no longer a costly customizing process.



The new software improves remnant creation by automatically optimizing the remnant cut geometry on the existing layout. This simplifies the creation of remnant plates while maximizing material utilization.



Columbus III version 1.2 offers optimized cutting technologies with three new bridge configurations. These unique patterns allow continuous cutting of external contours with a single pierce and provide better links for bridges from part to part. High cut quality is consistently achieved and burn marks on bridge transitions are eliminated. The resulting part geometries feature negative shaped bridges, which simplify the removal of parts from the skeleton.



The software also improves cut quality and cost when beveling by optimizing the cutting path, even for multi-pass plasma cuts. A unique feature provides a graphical view of the travel path of the height sensor. This allows the user to avoid collisions with parts, plate or kerf and to optimize material usage by visualizing the path the height sensor will travel relative to the cut.



Making these new features and functionality possible is a user-friendly interface that provides complete control over the entire programming process. The Layout Designer manages all functions necessary to generate a CNC program or nest for straight cutting in oxy-fuel, plasma, laser, and waterjet, as well as marking processes. The menu-driven user interface complements the screen icons to help keep the workspace organized and keep important functions at the user's fingertips. The workspace can be customized by hiding or showing all features in each section and organizing the different menus with dock able windows over more than one monitor.



To get customers up and running quickly and address questions in a timely manner, ESAB's Columbus III is offered with full on-line support and training capabilities.



ESAB Welding & Cutting Products is a recognized leader in the welding and cutting industry. From time-honored processes in welding and cutting to revolutionary technologies in mechanized cutting and automation, ESAB's welding consumables, equipment, and accessories bring solutions to customers around the globe.



For more information, visit www.esab-cutting.com or call 1-888-372-2288.



FOR MORE INFORMATION, CONTACT:



Holger Hahn

+49 (6039) 40-341

h.hahn@esab-cutting.de



Sue Bartholomew

843-679-5823

sbartholomew@esab.com



Loretta Degasperi

843-664-4274

ldegasperi@esab.com

More from Controls & Controllers