Cable Testers support snap-on video test modules.
Press Release Summary: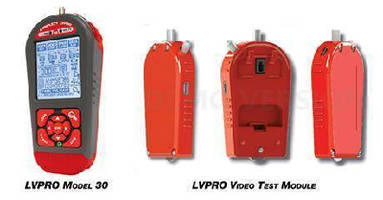 Intended for video installation and maintenance professionals, LVPro20, LVPro30, and LVPro30SR have backlit screens and re-designed back panel, software, and electronics that enable snap-on adapter module. Video Test Module snaps on to back of testers, hijacking user interface to run host of tests on BNC, RG6, RG59, or HDMI cable, including signal level and loss, transmitter mapping, and cable length and quality. It will also generate color-bar test pattern for HDMI display testing.
---
Original Press Release:

Triplett Announces the New LVPRO and Snap-on Video Test Module



Manchester, NH, – In order to broaden the number of uses of its acclaimed Low Voltage Pro product line, Triplett is launching a fresh lineup of LVPros that accept specialized snap-on test modules.  In parallel, Triplett is launching the snap-on Video Test Module; a must-have for all video installation and maintenance professionals.



"The LVPro20, LVPro30 and LVPro30SR now have backlit screens, internal improvements for ruggedness, and of course the re-designed back panel, software and electronics that enable the snap-on adaptor module," said Spencer Craig, Director of Product Management for Triplett.  "We have also taken this opportunity to re-image the former yellow/gray (Byte Brothers) branding to Triplett's familiar red and black branding."



"The Video Test Module snaps on to the back of any new LVPro, hijacking its user interface to run a host of tests on BNC, RG6, RG59 or HDMI cable, including signal level and loss, transmitter mapping, and cable length and quality.   It also will generate a color-bar test pattern for HDMI display testing."



"We are extremely excited about the launch of the new LVPros and Video Test Module," continued Craig.  "The combination adds value to installers while addressing a common set of specialized video tests.  Further, the modular platform will be extremely useful in the future as we tailor our products to specific applications and unique test requirements!"



Triplett is exhibiting the LVPro30 and Video Test Module in booth 34066 at ISC West in Las Vegas, April 15-17.



For well over 100 years Triplett has been dedicated to providing the best value in test equipment.  Triplett continues to innovate and offer the very best in test and measurement tools to meet the needs of our customers.



Contact:

Nick Grosso, Product Marketing Specialist

Triplett Test Equipment & Tools

850 Perimeter Road

Manchester, NH 03103

603-621-6038

www.triplett.com