Position Sensors / Detectors / Transducers
Cable-Extension Transducer fits into tiny spaces.
Press Release Summary: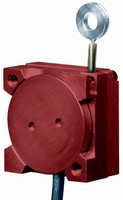 Suited for position sensing in applications such as robotics, crash test dummies, biomedical applications, and automotive testing, M150 has .74 x .74 x .38 in. aluminum body, operates over 1.5 in. range, and does not require precise manual alignment. Its .014 in. dia, nylon-coated, stainless steel measuring cable - attached to object under motion - offers constant tension and is fully retractable. Conducive, plastic potentiometer provides high-linearity voltage feedback signal.
---
Original Press Release:

World's Smallest Cable-Extension Transducer Promotes Durability and Reliability



Chatsworth, CA ~ Celesco Transducer Products, one of the world's leading designer and manufacturer of linear and rotary measurement transducers, has announced that it has created the world's smallest cable-extension transducer.

Celesco's M150 is a transducer that has a range of 1.5 inches, fits into tiny spaces and is the perfect position sensing solution for a variety of applications such as robotics, crash test dummies, biomedical applications and automotive testing.

The M150 transducer's aluminum body measures just .74 x .74 x .38 inches, or the approximate size of thumbprint, with a .014-inch diameter nylon-coated stainless steel measuring cable. It offers extremely durable construction and a high degree of reliability.

The Celesco M150 will be available to customers in spring 2008. It is an efficient solution for customers in virtually any industry but is likely to be specifically needed by companies in robotics, biomedical firms, automotive-related organizations and more.

"What really sets the M150 apart from other solutions is the small size and the fact that it doesn't require precise manual alignment," said Jim Bishop, General Manager for Celesco Transducer Products, Inc. "There is no need for customers to sacrifice any stroke range to properly position the sensor."

The M150 offers a constant tension and fully retractable stainless steel measuring cable that easily attaches to the object under motion. Installation is quick and easy since cable alignment is not a requirement for efficient and effective use.

The movement of the M150's internal spring-loaded spool turns the potentiometer which, when connected to a voltage source, produces a voltage directly proportional to the position of the measuring cable.

The M150 has been engineered by Celesco professionals for reliability to provide quick, easy and hassle-free installation for customers. While other transducers require precise alignment, the M150 is easier to use and offers quick, accurate measurements. It delivers a high-linearity voltage feedback signal by using a precision conducive, plastic potentiometer at the heart of the sensor.

"We feel that the M150 is the premier product on the market because of its precise measurements, reliability and durability," Bishop said.

As a result the expected life cycle of the M150 is at least 5 million cycles.

The M150 design was geared to meet customer needs. Every M150 comes standard with extra leader cable and an eyelit kit to allow the customer to terminate the measuring cable precisely at the required stroke position.

Celesco has also designed its new cable-extension transducer to be an effective solution even when space is limited. Its ease-of-use design, unique monitoring style and rugged, all-aluminum construction makes it one of the most flexible products on the market today.

ABOUT CELESCO

Celesco Transducer Products, Inc. designs and manufactures a wide range of linear and rotary measurement transducers that set the standard for easy and reliable position measurement. Founded in 1968, the company has a history of engineering and manufacturing transducers of the highest quality, for exacting applications such as industrial process control, medical equipment, automotive testing and flood-control projects.

As the world's largest volume supplier of cable extension "string-pot" position transducers, Celesco has an extensive range of standard product lines that have short lead times. The company also produces specialized, high-volume OEM transducers, a standard line of shaft-driven rotational position transducers, as well as a line of magnetically damped inclinometers.

Celesco transducers are proven to be reliable, cost effective, and easy to install and maintain. OEMs and end-users choose Celesco transducers because of their confirmed high accuracy, resolution and repeatability.

Scot Crum
Communications Manager
scot@celesco.com
(818)701-2772

Celesco Transducer Products, Inc.
20630 Plummer St.
Chatsworth, CA 91311

www.celesco.com

Ph: (800)423-5483
Fx: (818)701-2799

More from Machinery & Machining Tools