Cable Entry System avoids splicing of pre-wired cables.
Press Release Summary: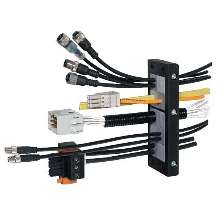 Cabtite helps install pre-manufactured wire and cable bundles and conduit into enclosures. KEL Frames mount directly on electrical cabinet and come in 2 sizes to accommodate various grommets. KEL SNAP base provides modular installation and offers NEMA 4 protection. KTV Split Cable Glands capture either 1 or 4 grommets and direct mount on cabinet. Grommets tightly accommodate wire or conduit, and are positively guided for safe installation.
---
Original Press Release:

Weidmuller's Introduces Cabtite: Easy Cable Entry System for Pre-wired Cables or Conduit


Lowers Installed Costs and Increases Productivity.

Richmond, VA (January 27, 2004)-Cabtite is a value-priced, easy entry system for installing pre-manufactured wire and cable bundles and conduit into enclosures.

For some equipment, splicing cables and cord sets void the manufacturer's warranty. With Cabtite, the panel builder avoids splicing pre-wired cables necessary with standard methods such as conduit, cable glands, and heavy-duty connectors. For those not worried about the warranty on a $5 D-Sub cable, Weidmuller's Cabtite simply eliminates the need to cut and prep.

In applications where environmental protection is required, Cabtite delivers IP 65 (NEMA 6) Environments for the KEL Frame and Cable Glands; IP 54 (NEMA 4) for the KEL SNAP system. And without messy lubricants!

Cabtite is an easy to install Grommet Carrier System that consists of Snap-in Split Frame- KEL, Panel Mounted Base- KEL SNAP, Split Cable Glands- KTV, and most important, grommets that fit all products.

The Cabtite KEL Frames are designed to mount directly on the electrical cabinet. They consist of two frame pieces with captured screws that carry multiple grommets. They come in two sizes to accommodate various numbers and sizes of grommets, and can be left blank for future installations and retrofits. Easy to install with positively guided and captured grommets that stay in place during assembly so no parts fall out. Panel cutouts are compatible with standard rectangular heavy-duty connector cutouts. They come with a self-adhesive gasket that can be used for a drill schedule and pattern for panel cutout.
The KEL SNAP Panel Mounted Base provides modular installation in a snap. Where a manufacturer delivers cabinets prior to field wiring, the KEL SNAP Base can be installed before shipping. When the cabinet is in place, the KEL Frame, pre-loaded with cables and grommets, fit quickly and snuggly in place. KEL SNAP is available in the same two frame sizes-both compatible with HDC HB 16 and 24 cutouts. For KEL SNAP, the gasket is integral-made of a foamed PUR and delivers an IP 54 or NEMA 4 protection.
The KTV Split Cable Glands capture either one or four grommets-no wasted space for just a connection or two-and are ready for direct mount on an electrical cabinet. They come in three sizes: Metric M25, M32, which carry a single grommet, and M63 for up to four grommets. The KTV Glands are threaded like a standard cable gland, and use an included lock washer to install.

Grommets, around which the Weidmuller Cabtite system is centered, fit all of the Cabtite products. The grommets are split on one side for a single piece that tightly accommodates the wire or conduit and are positively guided (coded) for safe, error-free installation. There are two sizes: Small for wire sizes 3mm to 17 mm (0.12 in. to 0.71 in.) and Large for wire sizes from 16 mm through 34 mm (0.71 in. to 1.34 in.). Two colors allow for choices in environmental applications: Gray elastomers for UL 94 V0 and halogen and silicone free applications, and black elastomers for high chemical resistant applications.

If shielding is required, Cabtite provides a system of EMC shielding rails for direct and fast continuous shielding to the enclosure. The grommet seals the connection from the outside environment without violating the cable jacket or shielding material. The shielding material, whether mesh or foil, is connected to Weidmuller's shielding rails inside the cabinet, directly to the enclosure, allowing for a higher degree of environmental protection.

KEL Frames fully loaded with gaskets start at a list price of $27.00. List price for the KEL Snap frame for modular installations start at $9.25, and the KTV split cable glands loaded with gaskets start at $14.00. Available now.
W Interconnections, Inc. is the exclusive master distributor in the U.S. for Weidmuller branded products for Germany-based Weidmuller Interface GmbH and Company-the world's leading supplier of electrical connection technology such as terminal blocks, printed circuit board terminals and connectors, relay sockets and plugs, and power supplies. Weidmuller has approximately 3,400 employees worldwide, with 70 sales organizations or offices in more than 60 countries. For more information, please contact:
Marketing Communications Manager
Weidmuller
821 Southlake Boulevard
Richmond, Virginia 23236
Phone (800) 849-9343
Fax (804) 794-0252
Email info@weidmuller.com
Website: www.weidmuller.com

More from Architectural & Civil Engineering Products