Cable Chains suit robotic applications.
Press Release Summary: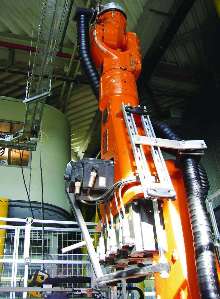 Triflex® R Energy Chains® move multi-dimensionally on x, y and z axes and twist up to 380°/yd. Trailer-hitch style modular assembly delivers high tensile strength without need for steel cables. Chains protect moving cables and hoses attached to automated robotic machinery by providing impact resistance, contamination protection, and abrasion resistance. Smooth tubular design enables carriers to glide over robot without catching or tilting.
---
Original Press Release:

New igus Triflex R Energy Chain for Robotic Applications Boasts 3-D and Multi-Axis Freedom of Movement


Smooth tubular design ensures fluid mobility and trailer-hitch style modular construction provides high tensile strength and flexibility without steel inserts

EAST PROVIDENCE, R.I. - January 20, 2004 - igus® Inc. today introduced the latest addition to its Triflex® line of flexible Energy Chains®. New Triflex R is designed for robotic applications requiring three-dimensional (3-D) and multi-axis freedom of movement. Smooth contours and a tubular design ensure fluid mobility. The new Triflex R is constructed with a unique trailer-hitch (ball and socket) style modular assembly, which provides high tensile strength and flexibility without the need for steel cables. Now customers gain the benefits of a fully protected energy supply system that can twist in any direction.
Triflex R protects moving cables and hoses, including Chainflex® continuous-flex cables, attached to automated robotic machinery. It is ideal for robotic applications performing both linear and radial movements in a confined space, such as in the automotive industry or any production plant. It is also ideal for use in welding applications due to its flame-retardant properties.

New Triflex R is able to move multi-dimensionally on the x, y and z axes. It can twist up to 380 degrees per yard, enabling easy movement around complex configurations. The smooth tubular design enables the cable carrier to glide over the exterior of the robot without catching or tilting.

Other features include:
o Modular design with interchangeable links enabling fast, easy length adaptation;
o Mounting brackets also can be used at any point along the carrier as a support;
o Enclosed tube provides protection from dirt and spatter;
o Easy assembly, installation, maintenance and access to cables;
o Small bend radius-less than four and one-half inches-and short pitch for even the tightest installation;
o Uniform bending radius in every direction enhances service life of cables and hoses;
o High stability with exterior stop dogs;
o Torsion bars fitted into specific guide openings provide self-support; and
o Superior mechanical features, including impact resistance, contamination protection and abrasion resistance.

Trailer-hitch style construction
The high tensile strength achieved by Triflex R is the result of its unique trailer-hitch style construction. It can sustain high transverse forces and push/pull forces are absorbed at the center. Most of the Energy Chain mass also is at the center, reducing construction space and acceleration forces.

Traditional flexible cable carriers offset forces through the outer covering, the lines themselves, additional steel cables or spring assemblies.

"With Triflex R, igus has taken robotic energy supply systems to a new level," said Joe Ciringione, Energy Chain business unit manager for igus. "We deliver six-axes movement and Triflex R requires no additional reinforcement, unlike other flexible cable carriers. As more and more factories and production plants migrate to robotic manufacturing, the need for this type of cable carrier is going to increase. We expect to see a high demand for this product in the coming months and into the foreseeable future."

A complete solution
Triflex R also is available as part of an igus ReadyChain solution-preassembled, ready-to-install cable carrier complete with Energy Chain, Chainflex cables, mounting brackets, strain relief, connectors and all accessories. ReadyChain increases production throughput, saves manufacturing time and reduces costs and inventory, having an impact on the entire organization.

For Triflex R pricing and available sizes, or for more information on a ReadyChain solution, please contact igus at (800) 521-2747 or visit www.igus.com. Igus will be showing Triflex R at the National Design Engineering Show in Chicago, Ill., February 23-25, at the McCormick Place Convention Center, booth #2423.

About igus
Igus Inc., founded in 1985 and based in East Providence, R.I., develops and manufactures industry-leading plastic cable carriers, continuous-flex cables, plastic bearings and linear guide systems. With more than 28,000 products available from stock, the company meets the motion control and machinery component needs of customers worldwide. Product lines include Energy Chain Systems® to protect and house moving cables, Chainflex continuous-flex cables, iglide® self-lubricating, oil-free, plastic bearings, DryLin® linear guide systems and igubal® spherical bearings.

More from Cleaning Products & Equipment