Cable Carrier combines flexibility and sturdiness.
Press Release Summary: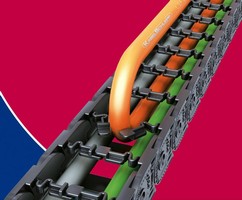 Made of synthetic materials reinforced with glass fibers, EASYTRAX 0320 features chain designed for long unsupported spans and flexible brackets for press-in-place cable laying. Chain links are lined up and pressed together to provide specific length required for each application, while elastic lamella crossbar system and flexible swivel brackets optimize free space inside chain. Stops are locked in place to stand up to bending or stretching under initial stress.
---
Original Press Release:

The New Cable Carrier EASYTRAX 0320



KABELSCHLEPP GmbH, Germany, introduces the EASYTRAX 0320 chain that is made of synthetic materials, and combines what would seem to be contradictory characteristics: a very sturdy chain designed for long unsupported spans, and flexible brackets for quick, easy cable laying by simply pressing the cables into place. This is made possible thanks to intelligent flexible lamella crossbar that considerably reduces assembly and replacement times.

Swivel brackets for high filling capacity
The chain body of the cable carrier is made of a special synthetic material reinforced with glass fibres. This economical yet high-quality combination of fibres and synthetic material enables manufacture of lightweight chains that provide considerable strength. EASYTRAX can be used for unsupported spans that are almost twice as long as those possible with cable carriers made of non-reinforced materials. The strong chain links are lined up and pressed together to provide the specific length required for each application through simple assembly. The chain body is fitted with flexible lamella crossbars made of special elastic material with a long service life. Cables and wiring are easily and quickly inserted by simply pressing them into place. This does more than cut assembly times; it also enables easier and faster wiring replacement when necessary. The lamella crossbars system provides a particular characteristic: when cables are pressed in, the flexible brackets swivel forwards instead of downwards. This leaves all the space inside the chain free. "If the flaps move downwards when pressed, they take up cable room and hence reduce the carrying capacity", explains Ingelore Roth-Stahl, the sales promotion manager at KABELSCHLEPP. "The brackets can be blocked by cables that have already been fitted." Furthermore, brackets that swivel forwards instead of downwards also make it possible to fit separator systems between cables. "Flaps moving downwards would hit the separator system and not leave sufficient room for fitting cables," adds Roth-Stahl. The special wraparound fittings hold the separators firmly on the chain links and ensure safe cable insertion.

Sturdy side pieces
The stops are locked in place to stand up to bending or stretching under initial stress. This prevents snapping in these sectors and provides considerable lateral stability for the cable carriers. KABELSCHLEPP, the cable carrier specialist, is able to provide solutions to suit all applications: in type 30 models, the lamellar brackets open on the outside radius, while in type 40 models they open on the inside radius. EASYTRAX systems also feature end connectors with integrated strain relief systems, to which the cables can be fixed quickly and securely. Various connection solutions are provided by reversing the connectors. The integrated silencing units ensure especially quiet chain movement, while the small link sizes set EASYTRAX systems apart for their quiet operation.

The ET 0320 type range features a clear internal height of 18 mm and an overall height of 25.6 mm. Clear internal widths of 25 and 38 mm are available, and other widths will follow. The standard bending radii are 28, 38, 48, 75 or 100 mm, and a 125 mm radius is available as an option.

KabelSchlepp America
7100 West Marcia Road
Milwaukee, WI 53223-3363 USA

Toll-Free: 800.443.4216 (in USA)
Phone: 1.414.354.1994
Fax: 1.414.354.1900
Web: www.kabelschlepp.com
E-mail: info@kabelschlepp.com

More from Test & Measurement