Cable Adapter delivers data transfers up to 80 Gb/s.
Press Release Summary: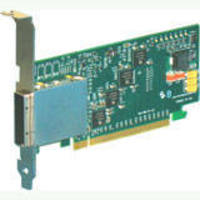 Based on redriver technology, PCI Express x16 Gen 2 Host Cable Adapter enables high-speed expansion over PCIe cable from host system to PCIe downstream device or expansion chassis. Half-card form factor enables adapter to be installed in space-constrained slot. In host mode, add-in card will accept clock as input, and in target mode, card will drive clock. Requiring no additional software, adapter is suited for applications such as video, imaging, and audio devices.
---
Original Press Release:

One Stop Systems' PCI Express x16 Gen 2 Cable Adapter Delivers Data Transfers up to 80 Gb/s



o No additional software necessary

ESCONDIDO, Calif., February 23, 2009 - One Stop Systems (OSS), a global provider of industrial-grade computing systems and components, today introduces its PCI Express (PCIe) x16 Gen 2 host cable adapter, enabling high-speed expansion over a PCIe cable from a host system at 80Gb/s to a PCIe downstream device or expansion chassis. The PCIe x16 cable adapter provides greater bandwidth for applications demanding high-speed throughput such as video, imaging and audio devices and requires no additional software or drivers to operate. The PCIe x16 Gen 2 host cable adapter is based on redriver technology. No switches are involved, thus there are no latency obstacles to throughput. The half-card form factor makes it easy to install in any space-constrained slot. It can be fitted with standard height or half height slot brackets. The PCIe x16 cable connector on the slot bracket and the PCIe x16 edge connector are routed directly to the Pericom 5804 redriver chip. In host mode, the add-in card will accept a clock as an input. In target mode, the add-in card will drive a clock

Target version

A target version is available to be used with the OSS 2-slot Gen 2 backplane (OSS-PCIe-BP-2000) and then cabled to the host version installed in the host system. A PCIe I/O board can be inserted in the second slot of the backplane. The card then operates on the PCIe bus as a component of the host system. A good example is a PCIe RAID board installed in the second slot and then connected to drives in a drive array such as in the OSS 3U 12-drive RAID array (OSS-PCIe -3U-RAID-12-x16). This provides faster throughput of data to the RAID board, which can then provide faster through-put to a greater number of more drives.

"Gen 2 silicon, readily available today, doubles the speed of data transfers. The PCIe x16 Gen 2 cable adapter provides throughput up to 80Gb/s from the host system to a downstream device or expansion system." said Steve Cooper, CEO. "One Stop Systems is widely known as the prominent provider of PCI Express products to the embedded market. OEMs look to us not only for our off-the-shelf components and systems but also for custom and semi-custom variations of these products. "

PCIe x16 Expansion System

The PCIe x16 expansion system offers a x16 cable expansion from an upstream host, providing Gen 2 I/O expansion to four PCIe Gen 2 expansion slots. The expansion system will also support all Gen 1 speeds.

Pricing

The PCIe x16 host cable adapter lists for $899 (P/N OSS-PCIe-HIB25-x16-H; OSS-PCIe-HIB25-x16-T). OEM quantities can be quoted on request. The PCIe x16 Gen 2 cable adapter is available immediately. Call toll-free at 1-877-GET-CPCI (438-2724) to order or to receive more information on this product and other One Stop Systems PCIe products visit our web site at www.onestopsystems.com.

About One Stop Systems

One Stop Systems designs and manufactures custom and semi-custom computing systems, disk arrays, and components for military, defense, and security applications as well as for the converged communications and industrial control embedded markets. One Stop Systems continues to provide custom and semicustom computing systems in both COTS (Commercial Off The Shelf) and MIL-standard form factors to many of the largest US defense contactors. In addition to providing highly rugged systems, One Stop Systems has become a premier provider of PCI Express-over-cable products for the embedded market. Responsive pre-sales and post-sales technical support, the highest quality computing products, and on-time delivery have long been a hallmark of One Stop Systems' service. For more information, contact our sales department toll free at (877) 438-2724 or visit our web site at www.onestopsystems.com.

Collette Cardoza

One Stop Systems

More from Electrical Equipment & Systems