Cabinets offer solution for data and network applications.
Press Release Summary: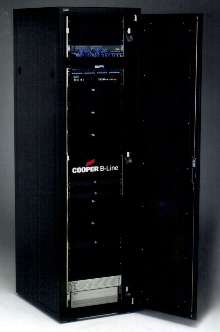 Series E2 Next Generation Cabinets are configurable to user specifications. They feature welded, 4-post frame with choice of 19 or 23 in. EIA square hole or No. 12-24 tapped rails. Ventilation options such as perforations, vents, and fans are available for doors, side panels, top, and base. Open base allows cable access from bottom, side, and rear. Colocation options offer up to 4 compartments. UPS systems, PDUs, and network monitoring accessories are available.
---
Original Press Release:

Cooper B-Line's E2 Next Generation Cabinets Offer Versatile Solutions for Data,Telecommunication


Highland, IL- Cooper B-Line's new E2 Next Generation Cabinets are available in a wide variety of configurations and offer a versatile solution for any data or network enterprise application.

Carefully engineered for maximum functionality and flexibility, this cabinet system lets you configure your own cabinet and choose from a variety of compatible accessories, ensuring the perfect fit for your unique application.

Cabinets are configurable to user specifications, fields can be retrofitted, and can be built as colocation units. Power management units and other accessories are available to complement the cabinet. Custom configurations can also be accommodated.

E2 next generation cabinets are the four-post cabinet of the future, designed by Cooper B-Line engineers to be the strongest, most flexible and most secure cabinets on the market. Notable design features include:

o A heavy-duty, welded four-post frame
o Choice of 19" or 23" EIA square hole or #12-24 tapped rails
o Ventilation options for doors, side panels, top, and base including perforation, vents and fans
o Removable panels and an open base for easy access
o Choice of keying and door lock type for additional security
o Colocation cabinets that compartments can be field changed to more or less

In addition, Cooper B-Line offers uninterruptible power supplies, power distribution units and a full line of compatible network monitoring and switching accessories to complete your system.

The frames for the E2 Next Generation Cabinets feature welded steel corner posts, zinc-plated mounting rails for conductivity and grounding. This cabinet system also comes with an open base (with optional filter kit) to allow cable access from bottom, side and rear, a durable powder coat, and your choice of rail length, type and position. To adjust rail depth, horizontal mounting struts are included on the cabinet. The frames are compatible with a full range of shelves and cable management. Colocation options for the cabinet offer up to four compartments.

Door design and side panel features on the E2 Next Generation Cabinets are also impressive. Elements on the door designs include a split "wardrobe" style option, sturdy 16 gage steel construction, grounding stud (included), quick-release hinges which open 120 degrees for maximum access, choice of right/left hinge, choice of door style, and choice of lock.

Side panel design elements include: 16 or 18 gage steel construction (solid or vented), lift-off design for easy removal when unlocked, availability in heights to match co-location compartments, and split "wardrobe" style options.

For more information about E2 Next Generation Cabinets, visit the Cooper B-Line website, www.cooperbline.com.

Cooper B-Line manufactures quality support systems and enclosures for the electrical, mechanical, and comm./data industries.

More from Electrical Equipment & Systems