c3controls Launches the Miniature Circuit Breakers with Over 500 Unique Configurations
Press Release Summary: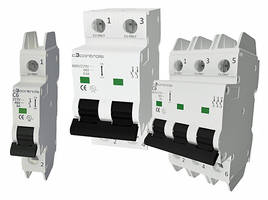 c3controls' new series 1100 line of MCBs features a 10kA short-circuit current rating (SCCR), providing short-circuit and overload protection for branch and downstream devices. Additional benefits include dual trip curve availability, trip-free design, easy wiring, compact size and easy installation. The inclusion of both UL 489 branch circuit breakers and UL 1077 supplementary protectors makes the 1100 line flexible and suitable for wide range of AC and DC applications.
---
Original Press Release:
c3controls Introduces the Series 1100 Line of MCBs
Superior SCCR protection, over 500 unique configurations
Beaver, PA. (June 19, 2018) - c3controls, a leading manufacturer of industrial control products, has introduced the Series 1100 line of Miniature Circuit Breakers, the inaugural offering of MCBs from the company. The new MCBs feature a 10kA Short-Circuit Current Rating (SCCR), on par with the highest available on the market, double the 5kA of most competitor models, providing the ultimate in short-circuit and overload protection for branch and downstream devices. 
Including both UL 489 Branch Circuit Breakers and UL 1077 Supplementary Protectors and over 500 unique configurations, the Series 1100 line is suitable for a wide range of applications. Configurations include one-pole, one plus neutral, two, three and three plus neutral, with current ratings from 0.5A to 63A, all with thermal and magnetic trip elements for overload and short-circuit protection.  The c3 MCBs are an all-in-one product, flexible for use in AC and DC applications, breaking from the common market standard of offering a separate line for DC. 
"We believe we have achieved our goal in designing the best line of MCBs on the market, and encourage panel builders to contact us for a free sample to see for themselves," said Geoff Taylor, president of c3controls.  "And with our in-house design approach and tight manufacturing controls we are able to offer the products at a cost at or below the market norm."
Fully tested, the molded case circuit breakers are suitable for use per IEC 60947-2 and IEC 60898, and are UL listed and CE marked to meet global requirements and comply with RoHS directives.
Other features and benefits include:
Dual Trip Curve Availability:  C curve models with a low thermal trip delay and a mid-range trip function, and D curve models with a high thermal trip delay and a very high magnetic trip point;
Unmatched Safety: IP20 finger-safe protection from accidental contact; breaker status is clearly indicated via a color-coded status window;
Trip Free Design: Holding the operating handle in the ON position will not prevent the miniature circuit breaker from tripping;
Easy Wiring: Captive screws make it virtually impossible to lose screws,  dual style terminals accommodate solid/stranded wire and spade terminals;
Compact: 17.5mm wide per-pole construction allow for smaller control panels;
Easy Installation:  35mm DIN rail mounting for fast and easy installation and removal, applications.
Like all c3controls products, the Series 1100 MCBs come with:
Limited lifetime warranty: c3 guarantees that all products will be free of defects in material, workmanship and design for the lifetime of the product;
90-day money back guarantee: If a customer is not completely satisfied with the performance or quality of any product, c3 will replace the product or provide a full refund within 90 days of the invoice date  – no questions asked;
Guaranteed same-day shipping: Any standard catalog item ordered by 6:00 pm ET is guaranteed to ship same-day. All orders over $300 include FREE Ground Shipping.
To order a free sample call 724-775-7926 or visit www.c3controls.com/MCB .
About c3controls
Since 1976 c3controls (www.c3controls.com) has provided OEMs and electrical equipment builders a comprehensive portfolio of industrial control products that meet the most demanding applications.  By maintaining strict control over the development and manufacturing of all products, c3 is able to provide customers extraordinary value through unmatched quality, competitive pricing, same-day shipping, and a lifetime product warranty. This integrated approach coupled with a direct sales model fosters a degree of customer intimacy and innovation that leads the industry.
Media Contact
Alex Miller
c3controls Media Relations Agent
262-236-3710
More from Materials