C1200 Digital IC Amplifier features high-resolution display.
Press Release Summary: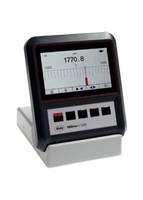 Added with dynamic measurement capability for measuring min, max or max-min values, C1200 Digital IC Amplifier comes with unit selection (in/mm/µm), normal/reverse polarity, measuring range and tolerance entry features. Using MarConnect cables for data output, unit is designed with Opto-RS 232, or USB interface.
---
Original Press Release:
Dynamic Measurement and Other New Features Added to Mahr Federal Millimar C1200 Digital IC Amplifier
Several new features have been added to Mahr Federal's popular Millimar C1200 Digital IC amplifier, increasing its application range and user security. The new functions include dynamic measurement capability, enhanced display tolerance viewing, and password protection for the setup menu. The Millimar C1200 Digital IC amplifier is a low cost, easy to view and use readout. It is designed to replace analog meters, as it offers analog-like display performance with very fast response technology. The high-resolution display provides clear digital and analog readings with selectable resolutions/scales.
The dynamic measurement capability added to the C1200 allows users to capture max, min, or max-min (TIR) values. During measurement, the digital value is held while the analog position is marked by blue lines on the scale.
The second new feature allows asymmetric tolerance markers to be displayed on the scale. The display can be set to center on the tolerances rather than the nominal size.
Finally, security is enhanced with password protection for the setup menu, which can now be locked and accessed using a 4-digit PIN number. When enabled, a prompt appears when accessing the setup menu. Arrow keys are used to enter the password.
Operating features for the Millimar C1200 Digital amplifier are set up using the 5-button keypad and visual menu options. In addition to the new features, the C1200 comes with these standard features: Unit selection (in/mm/µm); Normal/Reverse polarity; Measuring range; Preset; Factor; Tolerance entry. When tolerances are used the display shows pass/fail status using green/red color on the backlit display. Data output is available using MarConnect cables for Digimatic, Opto-RS 232, or USB interface. Output type is auto-sensed by the cable connected to it. External wireless may also be used.
Mahr Federal Inc., a member of the Mahr Group, has over 150 years of experience providing dimensional measurement solutions to fit customer application needs. The company manufactures and markets a wide variety of dimensional metrology equipment, from simple and easy-to-use handheld gages to technically advanced measurement systems for form, contour, surface finish and length. Mahr Federal is also well known as a producer of custom-designed gages and a provider of calibration and contract measurement services. Mahr Federal's calibration laboratories are accredited to ISO/IEC 17025:2005 NVLAP Lab Code 200605-0 (see our Scope of Accreditation for accredited calibration processes). For more information visit http://www.mahrexactly.com/.
For additional information, contact:
Carly Chacon
Marketing
Mahr Federal Inc.
1144 Eddy Street
Providence, RI 02905 USA
Tel: (800) 343-2050
(401) 784-3100
Email: mkt.nafta@mahr.com
Web site: http://www.mahrexactly.com/
More from Architectural & Civil Engineering Products