Plasma / Flame / Laser Cutters and Cutting Machinery
ByStar Fiber Laser Cutter is embedded with tube cutting software module.
Press Release Summary: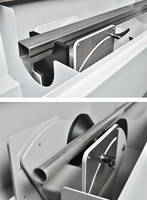 ByStar Fiber Laser Cutter can be equipped with integrated rotary axis. Unit comes with hatch and sliding doors. Product can process tubes with a diameter between 1.25 in. and 12.5 in. Laser cutter features rotary axis box which enables tubes of length 10 ft to be fed in the hatch for processing.
---
Original Press Release:
Bystronic Introduces ByStar Fiber Now with Tube Processing
Insert tube, start laser, unload completed part. Laser cutting of tubes using the ByStar Fiber is now this simple.
When purchasing a new Bystronic ByStar Fiber laser cutter, it can be now be equipped with an integrated rotary axis. The operator simply inserts the tubes that are to be processed through a hatch on the side of the machine housing or directly through the sliding door on the long side of the machine. Thanks to the sliding door on the long side of the cutting area, ByStar Fiber users always have unlimited access to the parts that are to be processed. This facilitates both the set-up for tube processing jobs and the fast unloading of the completed cut parts.
The standard version of the new tube processing upgrade enables tubes with a diameter of between 1.25 inch and 12.5 inch and a variety of lengths to be processed. The standard scope of delivery also includes the Tube Cutting software module. This module is an expansion for the BySoft 7 programming software. It allows users to design parts for tube processing, input existing CAD files, and edit them. Thanks to the intuitive software design, cutting plans for tubes are created in no time at all.
To process longer tubes, Bystronic offers a mobile upgrade, the rotary axis box. Easily attached to the ByStar Fiber, the rotary axis box enables tubes up to a length of 10 feet to be fed in through the hatch on the side of the machine housing for processing. The rotary axis box enables the precise positioning of long tubes and provides reliable shielding against laser radiation. When not in use, the rotary axis box can detach by the machine operator in just a few simple steps. When laser cutting tubes up to 20 feet in length, users can expand the rotary axis box with an additional extension box. Upon request, Bystronic offers this extension box as an upgrade.
About Bystronic
Bystronic Inc. has offered customers single source service expertise for over 30 years. They provide innovative laser cutting, waterjet cutting, press brakes, automation, system software and comprehensive customer training and support. The company's North American headquarters is located in Elgin, IL. Offices are also located in Toronto, Canada and Monterrey, Mexico. For more information on Bystronic Inc., visit www.bystronicusa.com or to contact by e-mail, sales.us@bystronic.com.
More from Architectural & Civil Engineering Products