Butterfly Valve Package enables industrial burner control.
Press Release Summary: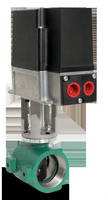 Butterfly Valve Package (BV-Pak) incorporates Trilogy Series Actuator mounted to standard butterfly valve and also includes position indicator. Burner and flow control are optimized through unit's high step resolution and torque. Product is designed to simplify assembly and installation in industrial and commercial combustion systems.
---
Original Press Release:

Eclipse Announces the New BV-Pak, Packaged Butterfly Valves



The Eclipse Butterfly Valve Package (BV-Pak) incorporates an Eclipse Trilogy Series Actuator mounted to a standard Eclipse butterfly valve. The new innovative support provides a robust universal solution with an "easy to see" position indicator. This package is the perfect solution for industrial burner control. Eclipse simplifies selection and ordering in this single source component purchase. Equipment sizing, mounting, and setup are all made easier. Simple, packaged convenience. Eclipse makes ordering easy with this single source flow control solution. A quick, simple configuration provides a ready to go "out of the box" product, offering fast, easy assembly and installation in your industrial and commercial combustion systems.



Perfect for applications requiring modulating precision and repeatability, the BV-Pak is the ultimate solution. High step resolution, reliability and ample torque of the T500 Rotary Actuator combines with the robust, world renowned Eclipse Butterfly Valve for ultimate burner and flow control The BV-Pak is the perfect packaged solution for any user of an automatic butterfly valve. Learn more about the BV-Pak: http://www.eclipsenet.com/products/bvpak/



About Eclipse, Inc.

Founded in 1908, in Rockford, Illinois, Eclipse, Inc. is now under the third generation of family ownership. Eclipse, Inc. is a worldwide manufacturer of products and systems for industrial heating and drying applications. They design and manufacture a wide variety of gas and oil burners, recuperators and heat exchangers, complete combustion systems, and accessories for combustion systems. Eclipse, Inc. offers its customers an excellent single source for design, installation, and service for total combustion needs, supported by expert application engineering services, anywhere in the world. Eclipse has been at the forefront of the combustion industry for over 100 years. This experience, combined with the legacy of growth, innovation and leadership has paved the way for Eclipse's emergence as a global provider of combustion products.

www.eclipsenet.com

Related