Business Tablet PC supports multi-touch input.
Press Release Summary: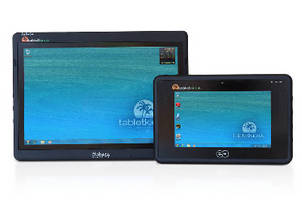 Powered by Intel® Atom™ N2600 processor, eo™ a7400 Ultra-Mobile Tablet PC is equipped with 64 GB mSATA SSD and 7.1 in. WSVGA LED-backlit LCD with dual mode capacitive multi-touch screen and active digitizer. Auto-sensing and auto-switching, screen features Wacom pen enabled technology for optimized signature capture and handwriting recognition. To ensure secure data capture and transmission, PC offers standard connectivity via USB 2.0, 802.11bgn WiFi networking, and optional 3.5G WWAN.
---
Original Press Release:

TabletKiosk Debuts New 7" Business Ultra-Mobile Tablet PC



Fourth Generation, 7" Ultra-Mobile Tablet PC offers enterprise-class computing with dual digitizer and multi-touch input, enhanced data security and desktop compatibility running Windows® Professional or Linux Operating Systems



LAS VEGAS, NV – Global Gaming Expo, — TabletKiosk®, a Torrance, CA based provider of mobile touch screen computing solutions, today announced the newest member of its eo™ Ultra-Mobile Tablet PC line, the eo™ a7400 — a compact 7" handheld Business Tablet PC designed to run powerful enterprise software programs as well as cloud-based computing apps. The eo™ a7400 offers improved value, versatility and productivity with its small form factor, dual pen and touch input, modular expansion system and the ability to run desktop PC Operating Systems and software applications.  



Powered by an Intel® Atom™ N2600 processor, the eo™ a7400 comes with a 64GB mSATA Solid State Drive (SSD), and features a 7.1" WSVGA, LED backlit LCD with dual mode capacitive multi-touch screen and active digitizer. The screen is auto-sensing and auto-switching and features Wacom pen enabled technology for enhanced signature capture and handwriting recognition.



To ensure safe and secure data capture and transmission, the eo™ a7400 features PC standard connectivity via USB 2.0, 802.11bgn WiFi networking, optional 3.5G WWAN as well as enhanced hardware encryption via TPM (TCG v1.2). Additionally, eo™ a7400 offers an integrated 10/100 Ethernet port for direct access to corporate networks for maximum integrity and connectivity.



To keep workers productive all day, the eo™ a7400 features two Lithium-Ion battery packs for up to six hours of continuous, on-the-go computing. One of the batteries is internal while the second is user accessible and hot swappable. This means that armed with an extra battery, workers can go a full shift without needing to stop and recharge.



"As a specialty Tablet PC hardware manufacturer, TabletKiosk is in a unique position to help our gaming customers determine the most effective mobile computing solutions for their needs," said Martin Smekal, President and CEO of TabletKiosk. "Since 2004, TabletKiosk has been supplying mobile computing solutions to the casino marketplace, and based on customer feedback, we believe that the eo a7400 will fill a unique niche as a new solution for table management, mobile POS, remote check-in and player tracking."



Component Interchangeability and New Options for Data Collection

The eo™ a7400 is designed to utilize many of the same accessories and components originally designed for the company's signature Sahara Slate PC® i500 Tablet PC to better maximize ROI for mixed system installations. Shared components include hot-swappable batteries, external battery charger, Business Smart™ Feature Expansion Modules (including Magnetic Stripe Reader, Barcode Scanner and multi-use MSR+Barcode scanner modules) power cords and digitizer styli (pen).



Additional Features Include:

• On-board 2.0GB RAM

• Intel® HD Graphics 3650

• Intel® HD Audio with 32-bit/192KHz support

• 1x Full Size USB 2.0 port

• 1x MiniUSB 2.0 port

• 1x Built-in SD/SDHC/MMC/xMMC media card reader

• Built-in front (2MP) and rear (5MP) facing cameras

• G-Sensor for auto screen rotation

• Two (2) user-programmable function buttons

• Built-in VESA compatible mounting capability

                                               

Pricing and Availability

eo™ a7400 will begin shipping by the end of October 2012.  For additional details, pricing, and to pre-order, please visit www.tabletkiosk.com.



About TabletKiosk®

TabletKiosk is a registered trademark and wholly owned subsidiary of Sand Dune Ventures, Inc. a privately held technology incubator. The company's line of quality enterprise-grade to rugged Tablet PCs and mobile accessories are designed to optimize productivity in key vertical markets while offering power, flexibility and security. All TabletKiosk products are marketed and sold through an authorized reseller channel and directly through the company website. For more information, visit www.tabletkiosk.com.



Web Resources

eo™ a7400 Ultra-Mobile Tablet PC specs: www.tabletkiosk.com/products/eo/a7400-overview.asp

LinkedIn: http://www.linkedin.com/company/tabletkiosk

Twitter:   http://twitter.com/TabletKiosk

Facebook: http://www.facebook.com/TabletKiosk



For media inquiries, please contact:     

Gail Levy

gail.levy@tabletkiosk.com

Director of Marketing

310-782-120



Gail Levy

TabletKiosk

2832 Columbia St.

Torrance, CA 90503

www.tabletkiosk.com

310.782-1201 ext. 1201

310.782.1205 facsimile

gail.levy@tabletkiosk.com

Related