Bus Connectors fit DeviceNet, Honeywell and Seriplex networks.
Press Release Summary: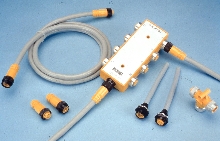 Tuff-Link Bus System connectors work in industrial environments including IP 67 washdowns. Family includes connectors, cable assemblies, receptacles, molded tees, terminators and several types of multi-port junction boxes, all of which meet NEMA, IEC, UL & CSA standards. Connectors have gold-plated contacts machined from solid brass, tees and terminators molded from PVC, anodized aluminum panel mount receptacles, and stainless steel couplers.
---
Original Press Release:
Remke Introduces Full-Line Of Tuff-Link(TM) Bus System Connector Products

Remke Industries recently introduced a new line of Tuff-Link Bus System Connector Products developed to meet DeviceNet, Honeywell and Sereplex network architecture. Designed for harsh industrial environments including IP 67 washdowns, this Tuff-Link family of products includes connectors, cable assemblies, receptacles, molded tees, terminators and several types of multi-port junction boxes all of which meet NEMA, IEC, UL & CSA standards.

The Tuff-Link Bus System family of products includes both Mini-Link and Micro- Link 5-pole connectors featuring gold-plated contacts machined from solid brass that provide very precise tolerances to enhance electrical integrity. They are available as either single or double-ended cable assemblies in a variety of male/female and straight/90° configurations with optional stainless steel couplers. The Tuff-Link Bus System product line includes mating male or female panel mount receptacles for any cable assembly configuration. Made of anodized aluminum, these Tuff-Link panel mount receptacles feature both an O-Ring and a locknut to create the tightest seal possible - both of which are features that most other connector manufacturers offer only as an option.

To facilitate easy installation and power distribution, Remke offers both a Mini-Port and Micro-Port Bus Box in two styles: passive feed-thru and passive drop. Passive feed-thru boxes are ideal for applications where the trunk line of the boss network is adjacent to machines since this style box takes the place of a molded tee. Both the Mini and Micro versions of the passive feed-thru box are available with 4 or 6 ports. Passive drop boxes are also available with 4, 6 or 8 ports in both the Mini and Micro sizes.

The Tuff-Link Bus System product family also includes tees and terminators molded from durable PVC with optional stainless steel couplers